Berlin pensioner hunts own meat with axe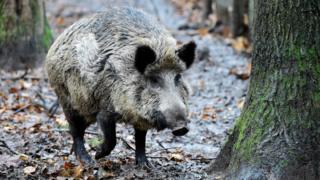 Berlin police came upon a grisly sight near one of the city's forested areas – as a thrifty pensioner decided to butcher his own meat.
Officers received an emergency call about a suspicious vehicle in the Reinickendorf area on Sunday night.
In the nearby forest, they found an 80-year-old man who told officers he could not afford good quality boar meat.
So he went to find it himself – and was discovered hiding near the headless body of a wild boar with his axe.
This story contains an image which some readers may find upsetting.
German newspaper Der Tagesspiegel reported that the man was a retired butcher.
Writing on Twitter, the police force said: "If you do not want to know what an 80-year-old butcher did last night in a parking lot in Reinickendorf with a hatchet, don't click here."
With that tweet, they posted a photo of a decapitated wild boar sow, along with an axe and a sharpening steel – and the story behind it.
After responding to the call, police said they encountered a woman in her car in a supermarket car park at about 22:40 local time.
The 75-year-old said she was waiting for her husband to finish work – but police continued to have a look around.
It was in the nearby forest that they discovered the female boar, decapitated, skinned, and partially gutted.
Edible entrails and "some larger pieces of meat" were already carefully boxed up, they said – alongside the steel tools.
And nearby, they discovered the man hiding in the bushes.
The 80-year-old man said he had killed the "trusting" animal with his axe in order to butcher it and eat "the good meat that he simply could not afford".
Police confiscated the meat and handed over the carcass to forest officials – and are pursuing criminal charges for poaching.
Source: Read Full Article