Runaway train derailed in Australia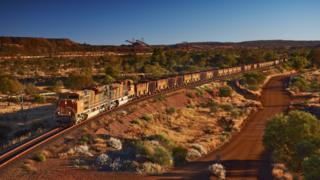 A freight train was deliberately derailed after hurtling through Western Australia at high speed for 50 minutes without its driver.
The 268-wagon train, owned by mining giant BHP, travelled for 92km (57 miles) with no-one on board in the outback Pilbara region on Monday.
The company said it had derailed the train remotely from Perth. It has since suspended its rail operations.
BHP said the incident had begun when the driver alighted to inspect a wagon.
"While the driver was outside of the locomotive, the train commenced to run away," the Australian Transport Safety Bureau (ATSB) said in a statement.
No-one was injured when the train, carrying iron ore, was derailed at 05:30 local time (18:30 Sunday GMT), the ATSB said. It has begun an investigation.
BHP said the train had been travelling from its inland Newman mine to Port Hedland.
It was derailed near Turner, about 120km from its destination, damaging the train and a 1.5km section of track.
The train was estimated to have been travelling at an average speed of 110km/h (68mph).
BHP said the train had travelled through a sparsely populated region on the company's own tracks.
State Premier Mark McGowan described the incident as "very concerning".
"I am sure that there will be a full review undertaken by BHP, and I will consult about what role the state might have in that," he said on Tuesday.
The Anglo-Australian miner said it was likely to take a week to restore its operations.
In July, rival company Rio Tinto said it had become the world's first miner to complete a heavy freight journey with new driverless train technology.
Related Topics
Source: Read Full Article