Jeremy Hunt to raise Khashoggi murder during Saudi visit
A spokesman said the foreign secretary's visit – the first by a UK minister since Mr Khashoggi's death – would build on talks held between the permanent under-secretary at the Foreign and Commonwealth Office, Sir Simon McDonald,
the Saudi King, and the country's foreign minister.
Mr Hunt will have meetings with King Salman and the country's controversial crown prince Mohammed bin Salman during the visit, it has been confirmed.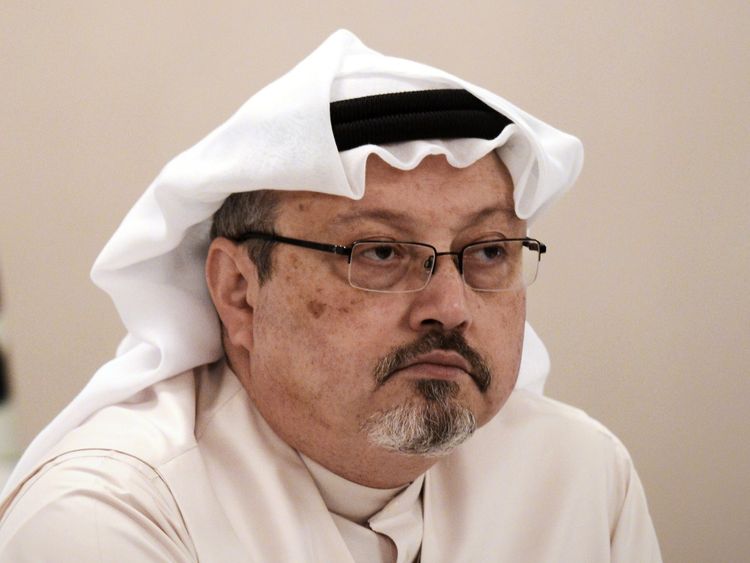 Ahead of arriving in the Middle East on Monday, Mr Hunt said: "The international community remain united in horror and outrage at the brutal murder of Jamal Khashoggi one month ago.
"It is clearly unacceptable that the full circumstances behind his murder still remain unclear.
"We encourage the Saudi authorities to co-operate fully with the Turkish investigation into his death, so that we deliver justice for his family and the watching world."
Mr Khashoggi was strangled as soon as he entered the Saudi consulate in Istanbul last month, as part of a premeditated killing, Turkish prosecutors have said.
:: Jamal Khashoggi murder tapes 'shared with UK'
Turkish President Recep Tayyip Erdogan said that recordings related to the killing of Mr Khashoggi had been passed on to the UK, US, Saudi Arabia and other powers.
Saudi Arabia had insisted for weeks after Mr Khashoggi disappeared that he had walked out of the consulate, before changing its account to say he died in a brawl.
Saudi officials describe the killing as a rogue operation carried out by Saudi agents who exceeded their authority.
Mr Hunt will also visit the UAE and use the trip to help end the bloodshed in Yemen as well as raise the ongoing consular case of Matthew Hedges, a 31-year-old Durham University PhD student who was detained at Dubai Airport in May after being accused of spying.
Source: Read Full Article