Cyprus opens new border crossings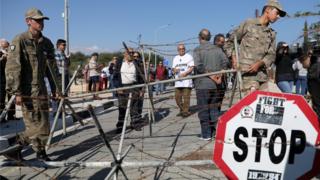 New border crossings have been opened between the Turkish and Greek sides of Cyprus – the first in eight years.
Dozens crossed via the new routes near Dherynia and Lefke as border guards removed barbed wire fences.
Monday's opening of new border crossings follows the breakdown of United Nations-sponsored reunification talks last year.
UN peacekeepers have patrolled a border buffer zone since hostilities between the island's two sides ceased in 1974.
The local Cyprus News Agency (CNA) reported a long queue of cars and a crowd of about 100 people waiting to cross over to Dherynia, in the north, ahead of the opening at noon local time (10:00 GMT).
The division between Greek and Turkish Cypriots dates back to 1974, when Turkey invaded the north in response to a military coup on the island which was backed by the Athens government.
The result was that the island was effectively split in two, with the northern third becoming the self-declared Turkish Republic of Northern Cyprus. But it is not formally recognised as a separate country by the international community, with the exception of Turkey.
An existing UN peacekeeping force which had been policing the tension between the sides for 10 years stepped in to patrol the border.
A series of talks in the decades since have failed to bring about reunification, though there has been some slow progress.
The latest round took place over six months in 2017, ending without agreement.
Initially thought to be a promising opportunity, the talks eventually stalled and deadlocked over Turkey's proposed military presence on the island and on the issue of returning property to tens of thousands of people who fled their homes during the hostilities.
Elizabeth Spehar, head of the UN peacekeeping force on the island, said the new crossing points helped to increase contact and build trust.
"Today is good day for Cyprus," she said in a statement.
Source: Read Full Article