Trump steps into center of youth-led "Tennessee Three" backlash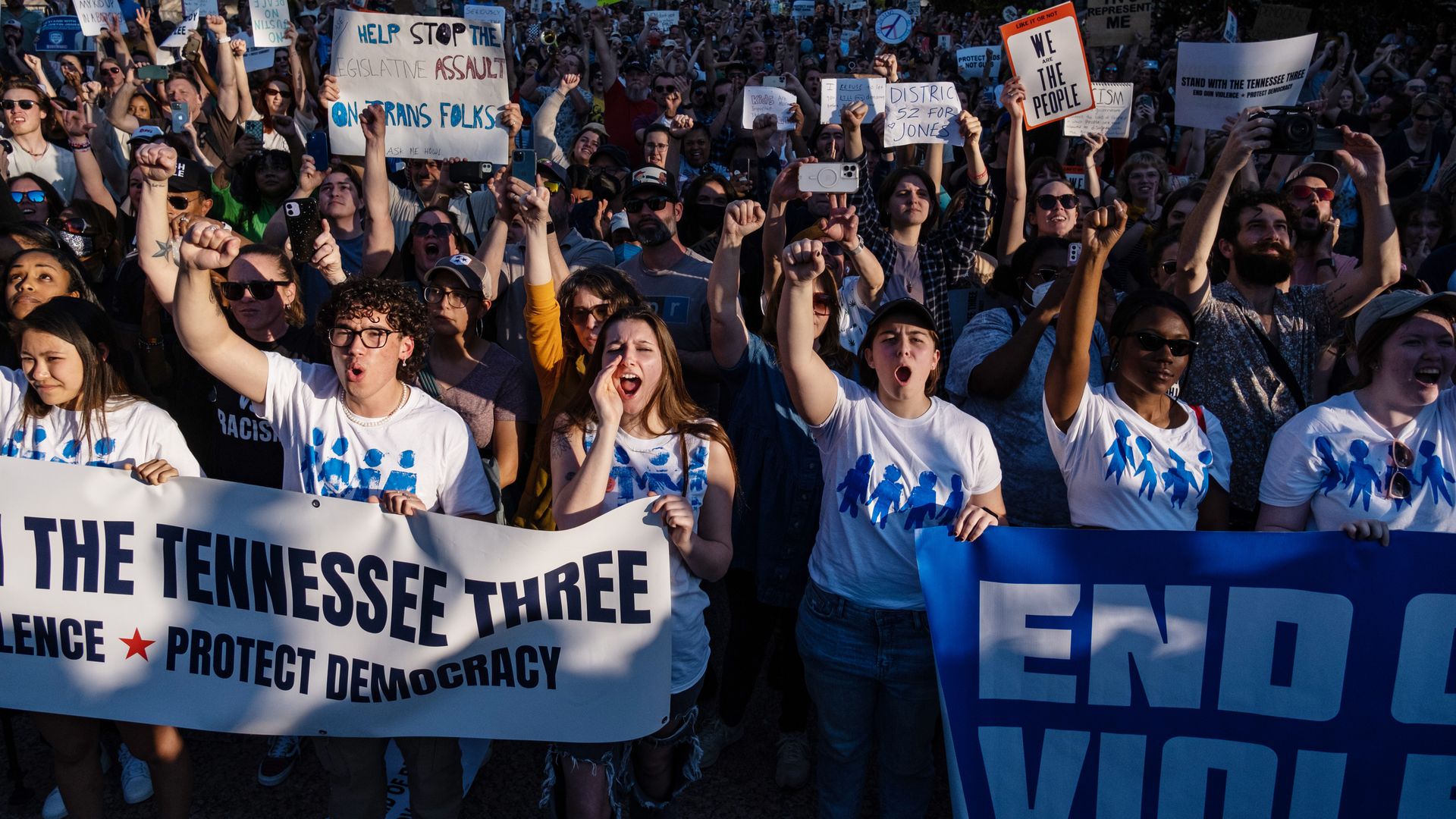 Protests in Nashville on Monday. Photo: Seth Herald/Getty Images
Former President Trump will travel this week to Nashville, the epicenter of a growing youth-led backlash over the Tennessee House's expulsion of two Black Democratic state lawmakers for joining protests against gun violence.
The big picture: Trump's appearance at the Republican National Committee's donor retreat Friday comes as thousands of young people are joining nationwide protests calling for gun reform and condemning inaction by GOP state lawmakers.
Emotional rallies in Nashville, in particular, have dominated national media coverage and energized Tennessee Democrats as they seize on a chance to erode GOP power with the help of the youth vote.
Middle and high school students in New Jersey, Texas, Colorado and Michigan will be holding more demonstrations and walkouts in the coming days, Axios has learned.
The backdrop: Now known as the Tennessee Three, Reps. Justin Jones, Justin Pearson and Gloria Johnson led protests on the floor of the state legislature in solidarity with activists against gun violence.
Jones and Pearson were expelled. Johnson, who is white, survived an expulsion by one vote.
Local officials in Nashville and Memphis unanimously voted this week to reinstate Jones and Pearson, respectively.
On Wednesday in Michigan, Students Demand Action (part of Everytown for Gun Safety) collaborated with March for Our Lives and other community partners to rally against GOP-sponsored gun legislation in the state.
Details: Wealthy GOP donors and high-profile Republicans will be at the RNC donor event, which has been planned for months.
Republicans attending include potential 2024 candidates former Vice President Mike Pence and Gov. Chris Sununu of New Hampshire — and both senators from Tennessee.
Many top Republicans have yet to comment on the Tennessee Three controversy — or whether they agree with what local lawmakers have done — but could come under renewed pressure to do so as they arrive in Nashville.
Zoom out: North Carolina Republican state lawmakers last month overrode Democratic Gov. Roy Cooper's veto of a controversial gun bill that would repeal the state's permit requisite for buying handguns.
State Rep. Tricia Cotham, a Democrat from Charlotte, changed her party affiliation to Republican last week, handing the GOP a clear runway to pass their conservative agenda, including abortion restrictions.
In Florida, Democratic Party Chair Nikki Fried and state Senate Minority Leader Lauren Book were charged with trespassing after refusing to leave a small protest against a six-week abortion ban proposal backed by Gov. Ron DeSantis.
Between the lines: Republicans saw the signs in 2022, when exit polls showed voters under 30 supported Democrats by 28 percentage points as activism over abortion and gun violence turned into historic voter turnout for the party in power.
They also helped President Biden in 2020 pull off a rare incumbent defeat.
Just last week, the GOP defeat in the Wisconsin Supreme Court race was helped by record turnout levels among college students.
Source: Read Full Article