Theresa May refuses to say if she'll quit if MPs reject Brexit deal
Continuing a public relations offensive in an attempt to sell her agreement with the EU to the UK public, Mrs May dodged questions about her own personal future if the House of Commons does not support her.
The prime minister will head to an EU summit in Brussels this weekend as she bids to secure a sign off from the bloc's 27 other leaders on the terms of Britain's divorce.
Spain has raised a last-minute obstacle for Mrs May by vowing to "veto Brexit" over the issue of Gibraltar, with Madrid demanding a written UK promise on the peninsula, known as The Rock, before Sunday's summit.
The prime minister is also facing a headache at home with Labour, the DUP, the SNP, Liberal Democrats and close to 90 of even her own MPs opposed to her agreement.
It means Mrs May is facing her prospect of the Commons rejecting her Brexit deal when MPs hold a "meaningful vote" on the agreement – expected to be held next month – unless she can persuade a sizeable number of parliamentarians to reverse their position.
During an appearance on BBC Radio 5 Live, Mrs May would not say whether she would resign or not if MPs fail to back her Brexit agreement.
"I'm focused on actually ensuring we do get this deal through parliament because I believe this is absolutely the right deal for the UK," she said.
Asked twice more if she would quit if parliament rejects her deal, Mrs May added: "As I'm sitting here, I'm not thinking about me.
"I'm thinking about getting a deal through that delivers on the people of this country.
"That's what drives me and that is what is at the forefront of my mind.
"And when I say I'm going to be focused over the next few weeks until the meaningful vote in parliament at getting that vote through, yes I will.
"I'm going to be doing other things too, I'm going to be around the country, I'm going to be explaining the deal to people up and down the country because I think this is important.
"It's not just about the MPs in Westminster looking at the deal, it's about people across the country understanding what the deal is about. So, that's my focus."
The prime minister also attempted to clarify whether MPs rejecting her deal would prompt a "no-deal" Brexit or even the UK remaining in the EU.
Earlier this week, Mrs May defiantly told MPs the UK will leave the EU on 29 March next year, but then she also warned Brexiteers that securing no agreement with Brussels "could risk no Brexit at all".
"From my point of view, personally, there is no question of no Brexit because the government needs to deliver on what people voted for in the referendum in 2016," Mrs May told the BBC.
"So, as far as I'm concerned, the UK is leaving the EU on 29 March 2019.
"But people will have heard, if they've look at what's happened in parliament, they'll have heard there are voices in parliament that actually want to frustrate Brexit and want to stop Brexit."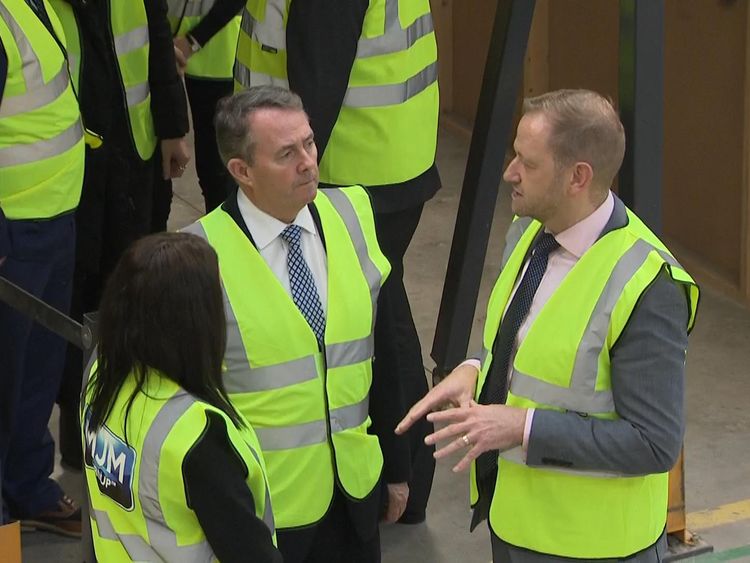 Most of the criticism of Mrs May's Brexit agreement has focused on the so-called backstop arrangement aimed at avoiding a hard Irish border.
International Trade Secretary Liam Fox admitted, if the UK were to fall into the backstop in the absence of an agreement on the future EU-UK relationship, it could hamper the country's ability to secure independent trade deals with non-EU countries.
"If we were in the backstop, it would be quite difficult for us to engage with partners, not knowing when the end date would be when we could implement any agreement," he said on a trip to Northern Ireland.
"And so our aim is that we would never get to the backstop."
Source: Read Full Article