Sky Views: PM needs the Brexit equivalent of a Jedi mind trick
Faisal Islam, political editor
To get a deal through parliament the PM and her whips will essentially have to persuade two diametrically opposed cross-party groups of MPs that a vote against her deal will deliver both "no-deal Brexit" and at the same time "no Brexit at all".
Remainer rebels will be told and have been told that voting down the deal will lead to the chaos of no-deal across the economy, with implications for car factories, supermarkets and in the Channel.
Conversely, Brexiteer rebels will be told, and have been told by the PM herself, that voting down her deal could lead to "no Brexit at all".
Both cannot be true.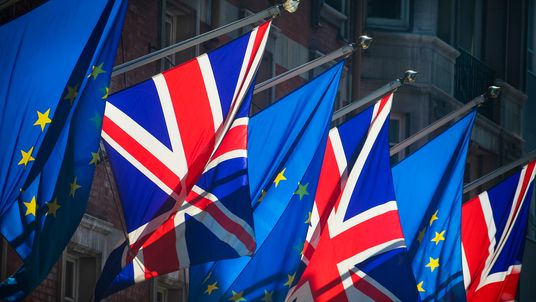 But in order to squeeze as many votes as possible for her yet-to-be-finalised compromise deal with the EU, the Brexit equivalent of a Jedi mind trick is required from Downing Street.
And as scarcely believable as many aspects of the Brexit endgame are proving right now, such conjuring is finding its equal and opposite force now among supporters of a so-called People's Vote referendum on the exit deal.
They are trying, quietly, to persuade prominent Brexiteers that a referendum on the terms of the exit deal is in their interest. Again, it cannot be true that a second referendum is both in the interest of mainly Remainers behind the People's Vote campaign and the most uncompromising Brexiteers who want as hard or as clean a Brexit as possible. But it is possible that both sides might perceive it at this moment as being in their interest – should the PM fail to close a deal, or should such a deal be voted down in parliament.
In September, there was a private dinner at the home of one of the most prominent Brexit campaigners, attended by two of the leading lights of the People's Vote campaign.
How would prominent Brexiteers even begin to think the unthinkable on this issue? Simple self interest. If the PM gets a deal and gets it through the commons against the odds, then she will not be going anywhere in a hurry. And she will have received a parliamentary mandate for a potentially indeterminate Brexit-in-name-only transition period meant not to implement but to negotiate formally a "frictionless" free trade deal sharing EU rules for goods and agriculture.
The point about "frictionless" is important. It was reiterated as non-negotiable to business leaders meeting the PM last week, and is viewed by them as a politically acceptable synonym for ongoing acceptance of single market rules and a customs union to maintain trading conditions for those industries with advanced manufacturing supply chains.
The question that matters here is whether Tory Brexiteers hate this likely compromise so much that in order to kill it they are willing to risk "no Brexit at all". The suggestions that the great negotiation win of the past few weeks is to make the Ireland backstop some type of UK-wide customs union with the EU has not calmed Brexiteer nerves. A deal such as this "is not Brexit" many such MPs argue. But, surely, you would think, they would still prefer it to the risk of nothing.
"They know they can't get what they want through parliament, this gives them a chance to define Brexit again as Canada plus… my argument is 'Your best way to get what you want is a public mandate through a second referendum'," said one Tory Remainer MP. Another prominent Conservative Brexiteer had recently acknowledged to him that they would be voting in the same anti-deal lobby at some point over the next few weeks.
Strange times demand stranger bedfellows. Then again, it is often forgotten that one of the first political parties to suggest a referendum on EU membership in the first place, were the Europhiles of the Liberal Democrats.
Perceived self-interest is what drives politics. It is not always the same as actual self-interest. There certainly will be Remainer MPs risking the hardest of no-deal Brexits in order to try to create a route to stop the whole process. The reverse – hard Brexiteers risking "no Brexit at all" in order to get what they want in pure, undiluted form – is also going to happen. It is just a matter of numbers.
Sky Views is a series of comment pieces by Sky News editors and correspondents, published every morning.
Previously on Sky Views: Adam Boulton – US midterm elections matter to us all
Source: Read Full Article