Orange Plans To Launch Bid To Buy Remaining Stake In Orange Belgium
XPO Logistics Plans To Spin Off Logistics Segment To Shareholders
XPO Logistics, Inc. (XPO) announced Wednesday that its board of directors approved a plan to spin off of 100% of its logistics segment as a separate publicly traded company.
The spin-off will be tax-free to XPO shareholders and would result in XPO shareholders owning stock in both companies.
The transaction is currently expected to be completed in the second half of 2021, subject to various conditions.
If completed, the spin-off will result in separate businesses with clearly delineated service offerings: XPORemainCo, a provider of less-than-truckload or LTL and truck brokerage transportation services; and NewCo, the second largest contract logistics provider in the world.
Both companies are expected to trade on the New York Stock Exchange.
According to the XPO board, the two independent companies are expected to be well-equipped to capitalize on secular growth trends in their sectors.
If the spin-off is completed as expected, Brad Jacobs, chairman and chief executive officer of XPO Logistics, will continue in his roles at XPORemainCo, and will become chairman of the NewCo board.
Troy Cooper will continue to serve as XPORemainCo's president; and the executives currently leading XPO's global logistics segment will continue to serve in senior positions with NewCo.
RIL tops Fortune 500 list of Indian companies, IOC at second spot
Oil-to-telecom conglomerate Reliance Industries Ltd. (RIL) topped the Fortune 500 list of Indian companies, Fortune India announced on December 2.
Indian Oil Corporation Ltd. (IOC), the nation's biggest oil firm, bagged the second spot, followed by Oil and Natural Gas Corporation (ONGC) at the third, it said.
The country's largest lender State Bank of India was in the fourth position, while India's second-biggest fuel retailer Bharat Petroleum Corporation Ltd. (BPCL) took the fifth spot.
The list was published by Fortune India, which is part of the Kolkata-based RP Sanjiv Goenka Group.
Tata Motors was ranked sixth, followed by gold refiner Rajesh Exports at the seventh spot.
India's largest IT services firm Tata Consultancy Services took the eighth spot, while ICICI Bank was at ninth, and Larsen and Toubro at tenth.
In the global rankings released in August, RIL broke into the world's top 100 companies.
IOC had slipped 34 positions to rank 151st globally, while ONGC was ranked 190th, 30 notches lower than its last year's ranking.
Paragon Banking Group FY Underlying Operating Profit Declines – Quick Facts
Paragon Banking Group Plc (PAG.L) reported profit on ordinary activities before tax of 118.4 million pounds for the year ended 30 September 2020 compared to 159.0 million pounds, prior year. Earnings per share was 35.6 pence compared to 48.2 pence. Underlying operating profit was at 120.0 million pounds, down 27.0% from prior year. Underlying profit reduced driven by IFRS 9 Expected Credit Loss charges of 48.3 million pounds, reflecting the impact of Covid-19. Underlying earnings per share was 36.5 pence compared to 51.1 pence.
Fiscal year net interest income was 278.1 million pounds compared to 278.4 million pounds, last year.
The Board is proposing a dividend for the year of 14.4 pence for 2020. This dividend would be in line with the stated policy, giving a dividend cover of 2.50 times.
The Board also affirmed the existing dividend policy going forward. The Board noted that, due to paying the full 2020 dividend as a final dividend, any interim dividend declared for 2021 would not necessarily bear the normal relation to the preceding final distribution.
LIVE UPDATES: Trump to campaign for GOP Senate runoff candidates in Georgia Saturday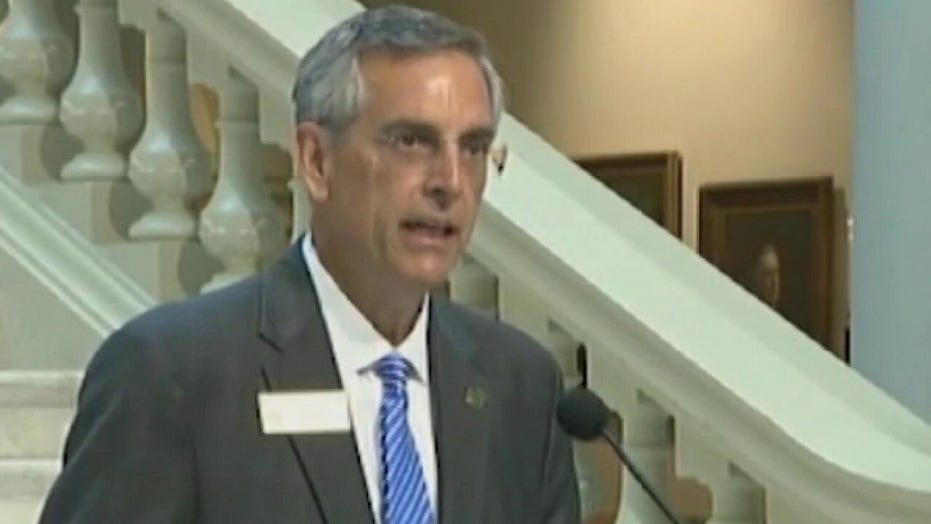 Georgia investigates Stacey Abrams-connected voter engagement group
Fox News correspondent Jonathan Serrie has more from Atlanta on 'Special Report'
President Trump will headline a Republican National Committee rally in Georgia on Saturday evening in support of Republican incumbent U.S. Sens. David Perdue and Kelly Loeffler. 
Fast Facts on the Georgia Senate runoffs 
Perdue and Loeffler will face Democratic challengers Jon Ossoff and Rev. Raphael Warnock after no candidate received the required 50% in the Nov. 3 election.
The runoff results will decide which party holds the majority in the Senate 

Perdue and Loeffler will face Democratic challengers Jon Ossoff and Rev. Raphael Warnock after no candidate received the required 50% in the Nov. 3 election.

Both are facing a runoff election Jan. 5 after no candidate received the required 50% in the Nov. 3 election. Perdue will face Democratic challenger Jon Ossoff while Loeffler will face the Rev. Raphael Warnock. 

The runoff results will decide which party controls the Senate in the next Congress.

Follow below for the latest updates on the Senate runoffs in Georgia. Mobile users click here. 

Orange Plans To Launch Bid To Buy Remaining Stake In Orange Belgium

French telecom major Orange SA announced its plans to launch a conditional public takeover bid to acquire all the shares of Orange Belgium that it does not yet own.

In response, Orange Belgium said its Board will meet as soon as possible to take note and examine the content of the offer in accordance with the legal provisions.

Orange would make a cash offer, without any minimum acceptance threshold, at a price of 22 euros per share.

The offer price represents a premium of 35.6% compared to the closing price of Orange Belgium on December 2 and a premium of 49.3% compared to the volume-weighted average trading price of Orange Belgium over the last six months.

If the conditions are met, Orange will consider a possible delisting of the shares of Orange Belgium that is trading on the regulated market of Euronext Brussels.

With the purchase, the company aims to strengthen its position in order to allow Orange Belgium to more efficiently deploy its strategy for long-term value creation and to react more effectively to major transformations in the Belgian market through greater financial flexibility.