Ryanair sacks staff who 'slept on floor'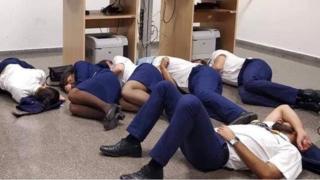 Six Ryanair cabin crew members pictured sleeping on the floor of a Spanish airport office last month have been sacked, the airline says.
The image, which Ryanair said was staged, was widely shared online. A Portuguese union that represents airline crews criticised the airline.
The staff were dismissed for gross misconduct, a Ryanair spokesman said.
Over 20 crew members were stranded in Malaga airport when their Porto-bound flights were diverted on 14 October.
However Ryanair said that despite the issues, "no crew slept on the floor".
"The crew spent a short period of time in the crew room before being moved to a VIP lounge, and returned to Porto the next day," the company said after the image circulated.
Confirming the sackings on Tuesday, Ryanair said the photo led to media reports that damaged the company's reputation and "caused an irreparable breach of trust with these six persons".
The Portuguese union, SNPVAC, had earlier disagreed with Ryanair's summary of events, claiming that crew members were placed in a room between 01:30 and 06:00 "without minimum rest facilities".
The union said that crew members were left "without access to food, drinks and even a place to sit down, as there were only eight seats available for the crew".
However SNPVAC confirmed that the staff were moved to a VIP lounge at 06:00.
The airline came under fire after the photo appeared on social media.
It was first shared by Jim Atkinson on Twitter, who criticised Ryanair for not providing adequate accommodation for staff.
Source: Read Full Article