Richard III 'deserves state funeral'
The decision not to hold a state funeral for Richard III has been criticised by the woman whose efforts led to the discovery of his remains.
Richard III Society member Philippa Langley said a state funeral should be staged because Richard was a monarch.
"Margaret Thatcher got a state funeral – and she was just a prime minister," she told the Radio Times.
Margaret Thatcher had a ceremonial funeral with military honours, a step short of a state funeral.
State funerals are usually reserved for monarchs, although there was one for former prime minister Sir Winston Churchill in 1965.
In fact, there is no funeral being held for Richard III as the service at Leicester Cathedral on 26 March will be a reburial or "reinterment".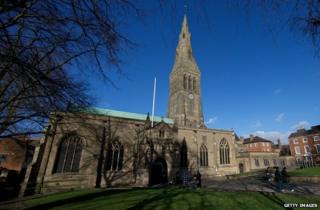 His cortege is passing through Leicestershire ahead of the reinterment, at which the current royal family will be represented by the Countess of Wessex.
Richard III's remains were sealed inside a coffin at a private ceremony on Sunday.
The coffin was made by cabinet maker Michael Ibsen, a descendent of the king, whose DNA was used to help identify the remains.
The skeleton was found in 2012, in the remains of an old friary beneath a Leicester City Council car park.
Philippa Langley had been trying to get backing for a search for the lost remains for many years, and approached archaeologists at the University of Leicester for help.
The university confirmed the skeleton was the king's in 2013, following DNA analysis.
University of Leicester
Leicester
Source: Read Full Article