Michael D Higgins inaugurated for second term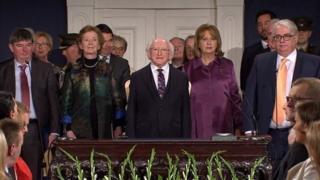 Michael D Higgins has been inaugurated for a second term as President of Ireland at a ceremony in Dublin Castle on Sunday.
Former presidents Mary Robinson and Mary McAleese were in attendance.
The Taoiseach (Irish prime minister) Leo Varadkar and Tánaiste (deputy prime minister) Simon Coveney were also present.
President Higgins was re-elected in October with 56% of the vote.
All five of the candidates who ran against him also attended the event.
President Higgins made the Irish presidential declaration as he was sworn in for another seven years:
Christian, Jewish and Islamic religious representatives opened the inauguration ceremony with a prayer.
During his inaugural speech, President Higgins thanked those from different political parties and communities who supported his campaign.
"I want to thank you, the people of Ireland, for the honour you have again bestowed on me, an honour I accept with all the energy of mind and heart that is required for the trust your mandate has placed on me," he said.
The Captains Guard of Honour of Óglaigh na hÉireann renders honours to Michael D Higgins for the first time in his new term as he is inaugurated as Uachtarain na hÉireann. #óglaighnahéireann #strengthenthenation #inauguration pic.twitter.com/FAb30uHh6p
End of Twitter post by @defenceforces
"I will, I have emphasised, be a president for all of the Irish people, wherever they may be and in whatever circumstances, those who supported me and those who were not among that number.
"We cannot afford to be complacent as to how we are living our lives and planning our future at local, national, European or global level.
"Inequalities are deepening and many of our people do not have the necessary securities of adequate housing, shelter, health, education, such securities and supports which would allow them to realise their rights and participate with equality."
"A real republic requires a wide embrace, inclusive of all its members – in our case, all of our Irish from different generations including those who are abroad – and it must be generous in its reach," President Higgins added.
"We can and must be advocates for the inclusion of diverse peoples, traditions and belief systems in a peaceful world assisted by strong multilateral institutions, themselves supported by a deeper global consciousness, one derived from the irreducible rights of human dignity."
'Distinction'
Mr Varadkar thanked President Higgins' wife Sabina, and mentioned the couple's beloved dogs Bród and Síoda before thanking Mr Higgins himself for a life of service to Ireland.
"Throughout a lifetime of public service, President Higgins has spoken for all parts of Irish society, and all of our people," he said.
"As an academic, an artist, a TD, a senator, a minister and as president, he has always articulated a clear set of values and principles, and has spoken with courage, compassion and authenticity.
"By representing us with distinction, he has brought distinction on our country."
Source: Read Full Article