Charlie Hebdo survivor wins book prize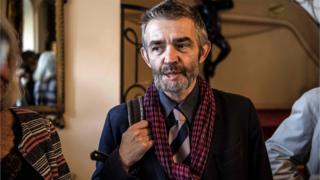 French journalist Philippe Lançon has made his first public appearance since being wounded in the deadly 2015 attack on satirical magazine Charlie Hebdo.
Lançon appeared before cameras in Paris to collect the Femina literary prize for his book Le Lambeau (The Thread).
He was hit in the jaw and arm during the attack when Islamist militants shot dead 11 people at the magazine's office in the French capital on 7 January.
Le Lambeau recounts the attack and his slow recovery from his wounds.
The gunmen who burst into the magazine's offices later shot dead a policeman, and were eventually killed by security forces.
Their victims were eight journalists, two police officers, a caretaker and a visitor:
Source: Read Full Article