Arron Banks: Who is the bankroller of Brexit?
:: Who is Arron Banks?
Arron Fraser Andrew Banks is 52 and a self-made millionaire who has donated big sums to anti-EU political causes including UKIP ahead of the 2016 referendum.
His fortune, estimated by some at up to £250m, is difficult to nail down because of a vast array of privately-owned business interests.
These are dominated by insurance companies but also include a South African diamond mine.
:: Why should we care?
Mr Banks is facing a criminal investigation into the origin of £8m of donations he made to the Leave.EU campaign he co-founded in the run-up to the 2016 Brexit referendum.
The source, or sources, of those funds are at the heart of the inquiry.
The investigation was launched after the Electoral Commission said there were "reasonable grounds" to suspect that Mr Banks was not the true origin of the cash.
The National Crime Agency has powers not available to the commission to investigate offshore interests.
:: What is the accusation?
There are two strands to this.
The commission believes funding involved a company called Rock Holdings, which is based on the Isle of Man, making any campaign donations impermissible under electoral finance rules.
He argues the money came via UK-based Rock Services – one of his insurance firms.
Newspaper suggestions of Russian involvement have been vehemently denied by Mr Banks.
:: Does he have links to Donald Trump?
Hmm. Not really. But there was much commentary around a photo taken in New York in November 2016, before Mr Trump entered the White House.
Mr Banks was there to meet the US president-elect with his business associate and Leave.EU press spokesman Andy Wigmore at the behest of Nigel Farage.
Mr Farage had just left the top job at UKIP (again) after the referendum victory and was there in a personal capacity to celebrate the tide of populism witnessed in the UK and US.
:: Who are other central figures at Leave.EU?
The group was led chief executive Liz Bilney, also a business associate of Mr Banks, with the PR being handled by Mr Wigmore.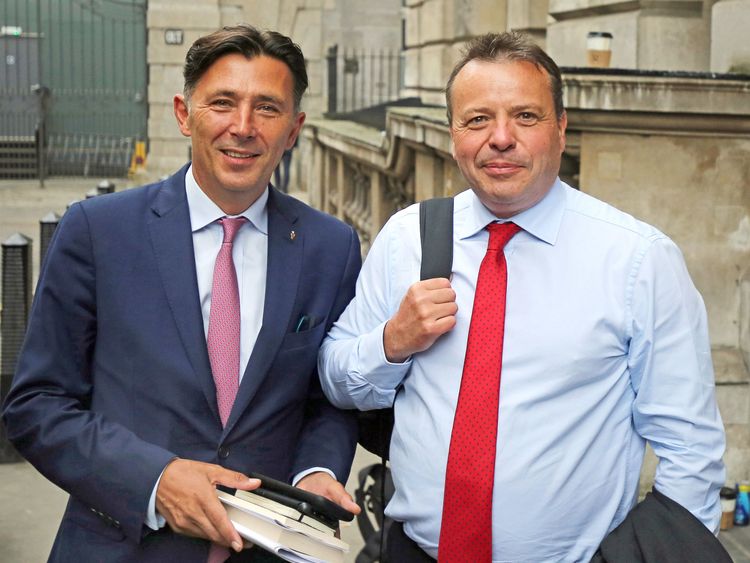 It was based in Bristol, where the millionaire has offices for his insurance interests.
Ms Bilney was responsible for submitting all income and spending figures to the commission and has insisted there was no wrongdoing.
Mr Wigmore ran the day-to-day PR campaign. He is also an Olympic athlete who was on the shooting team for his native Belize at the Rio Olympics.
Source: Read Full Article