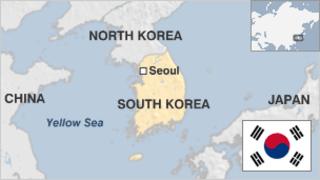 South Korea has developed into one of Asia's most affluent countries since partition in 1948. The Communist North has slipped into totalitarianism and poverty.
The republic was proclaimed in 1948 and received UN-backed support from the US after it was invaded by the North two years later.
The Korean War ended in 1953 without a peace agreement, leaving South Korea technically at war for more than fifty years.
The following four decades were marked by authoritarian rule, during which government-sponsored schemes encouraged the growth of family-owned industrial conglomerates, including the Hyundai and Samsung groups.
They helped transform South Korea into one of the world's major economies and a leading exporter of cars and electronic goods.
The US has tens of thousands of soldiers in the country.
FACTS
The Republic of Korea
Capital: Seoul
Population 48.6 million
Area 99,313 sq km (38,345 sq miles)
Major language Korean
Major religion Buddhism, Christianity
Life expectancy 77 years (men), 84 years (women)
Currency Won
LEADER
President: Moon Jae-in
Moon Jae-in was sworn in following his victory in a May 2017 election to replace the country's first female president, Park Geun-hye, who was impeached in an influence-peddling scandal.
Mr Moon, a centre left human rights lawyer who wants a softer stance on North Korea, said he would work for peace. He said he would be prepared to visit Pyongyang if conditions were right.
The son of North Korean refugees took office at a time of tensions on the Korean peninsula, with the US and Pyongyang trading angry rhetoric amid growing speculation about another nuclear test.
The international mood changed dramatically after talks with North Korea led to that country taking part in the Winter Olympics in the South.
At a summit meeting in April 2018, President Moon and the North's Kim Jong-un agreed to end hostile actions and work towards reducing nuclear arms on the peninsula..
MEDIA
South Korea is a trailblazer for high-speed and wireless internet.
More than 45 million South Koreans are online and nearly every household is connected. Instant messaging and gaming enjoy huge popularity.
South Korean TV soaps are popular across the region, including in China. They are part of the Korean Wave – the export of South Korean popular culture across Asia.
TIMELINE
Some key dates in South Korea's history:
1945 – After Second World War, Japanese occupation ends with Soviet troops occupying area north of the 38th parallel, and US troops in the south.
1948 – Republic of Korea proclaimed.
1950 – South declares independence, sparking North Korean invasion.
1953 – Armistice ends Korean War, which has cost two million lives.
1950s – South sustained by crucial US military, economic and political support.
1960s – Major programme of industrial development.
1988 – First free parliamentary elections.
2002 – Battle between South Korean and North Korean naval vessels along their disputed sea border is only one flare-up in the ongoing tension between the two states.
2018 – At a summit meeting in April 2018, President Moon Jae-in and North Korea's Kim Jong-un agree to end hostile actions and work towards reducing nuclear arms on the peninsula..
Source: Read Full Article