US yoga hero used broom to fight gunman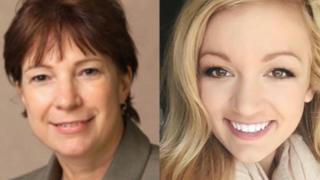 A Florida man is being hailed as a hero after he confronted a rampaging gunman using the only weapons he could find in a yoga studio – a broom and a vacuum.
"I jumped up as quickly as I could," Josh Quick told ABC News. He said he wrestled with the attacker after his handgun appeared to jam.
The attack last Friday at a yoga studio in Tallahassee left two women dead and five others injured.
One woman told the network the fight allowed her to flee the attack.
"Thanks to him I was able to rush out the door," Daniela Garcia Albalat told the Good Morning America programme.
She was in the class at Hot Yoga Tallahassee on Friday, and was shot through the thigh.
Yoga studio shooting hero shares his story: reveals how he confronted gunman in deadly attack: https://t.co/VCO5LgLT1j @ztkiesch has the story. pic.twitter.com/fiTbEiGvPO
End of Twitter post by @GMA
"He saved my life," she said through tears, explaining how she thought she was going to die.
Mr Quick, who had visible facial injuries, told ABC on Sunday how the yogis "were huddled in a corner" when the gunfire began and that the gunman stopped firing as he approached the group.
"I picked up the only thing nearby to hit him with, which was a vacuum cleaner, and I hit him over the head," Mr Quick recalled.
The 40-year-old gunman, "turned and pistol-whipped me," he said, adding that he fell to the floor but did not lose consciousness.
"I jumped up, ran over and grabbed the only other thing that I could find – which is a broomstick – and I hit him over the head with that.
"Again, he pushed me off, but some people were able to run out of the room."
The shooter then killed himself, police say. He was discovered with a self-inflicted gunshot wound around 17:40 local time (21:40 GMT).
A photo taken from the crime scene shows Mr Quick standing outside the studio, with a white T-shirt stained with blood.
'He saved my life': Joshua Quick fought off yoga studio gunman with vacuum cleaner, broom https://t.co/awCLRksNcS pic.twitter.com/mga4QEgDKW
End of Twitter post by @Florida_Today
Maura Binkley, 21, was killed as well as Dr Nancy Van Vessem, 61.
Authorities have not given a suspected motive for the shooting, but according to US media the attacker's social media posts show he may have been motivated by a hatred for women.
Source: Read Full Article