A young country for old men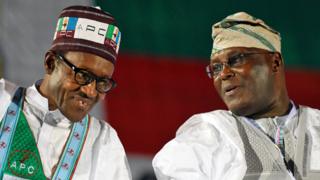 In our series of letters from African journalists, editor-in-chief of Nigeria's Daily Trust newspaper Mannir Dan Ali looks at why a country where more than half the population is under 35 looks set to get another septuagenarian president after next year's election.
On polling day, the two leading candidates in Nigeria's presidential election, President Muhammadu Buhari and opposition leader Atiku Abubakar, will have a combined age of 148.
This seems a far cry from the burst of optimism that accompanied the passing of the "Not Too Young To Run" law in parliament in May, which lowered the minimum age to run for the highest office from 35 to 30.
Perusing the list of more than 76 candidates, it is true that there are some who are at the more youthful end of the spectrum, like 46-year-old businessman Fela Durotoye, online news site Sahara Reporters publisher Omowale Sowore and newspaper columnist Tope Fasua, both of whom are 47.
But we all know that come February, it will be a contest between Mr Buhari of the ruling All Progressives Congress (APC), who is turning 76 in December, and Mr Abubakar, the flag-bearer of the People's Democratic Party (PDP), who will be 72 next month.
The old political networks are too entrenched and the cost of running for president too high for a candidate from outside the two main parties to stand a chance.
'Fists full of dollars'
More than half of Nigeria's registered voters are under 35 and when the Not Too Young To Run campaign was launched in April, it was hoped that it would encourage the peoples' representatives to look more like the people themselves.
According to the electoral commission, full-blown campaigns will start in mid-November.
The campaigns, like previous ones, will be more about creating a carnival-like atmosphere than to debate key issues, like the high level of youth unemployment, or the money that will be needed to fund promises around, for example, the development of Nigeria's infrastructure.
With the old guard still dominating, the joke doing the rounds these days revolve around the fact that you may not be "too young to run" but you are "too poor to make an impact" – rumours are rife that during party primaries, delegates walked away with fists full of dollars.
'Age brings wisdom'
In the race to become the APC's candidate, President Buhari was the only person in the running.
A 46-year-old former senator Yusuf Datti Baba Ahmed did run to be the PDP's presidential candidate, but he got just five votes from the 3,000 delegates.
More about Nigeria's elections:
The two main candidates could have made a concession to younger voters by picking more youthful running mates.
But Mr Buhari has stuck with Vice-President Yemi Osinbajo, who is 61, while Mr Atiku has gone for former Anambra state governor Peter Obi, 57.
The truth is that strong patronage networks have developed over the years in the two main parties, and powerbrokers are reluctant to take a risk with younger, untested candidates.
And yet the youth risk their lives to defend the country, toil to pay taxes and seek to improve their skills so that they can be more productive citizens.
Perhaps they can comfort themselves with the thought that age brings wisdom – or that some other countries have older presidents, like neighbouring Cameroon, where Paul Biya, 84, won a seventh term last week and Algeria where Abdellaziz Bouteflika, 81, is running for a fifth consecutive term next year.
More from Mannir Dan Ali:
Follow us on Twitter @BBCAfrica, on Facebook at BBC Africa or on Instagram at bbcafrica
Related Topics
Source: Read Full Article