Mother of suicide soldier gets rare honour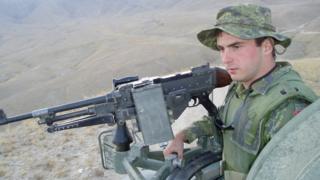 Every Remembrance Day, the Royal Canadian Legion names one mother of a soldier to represent all mothers who have lost children in Canadian military service. This year, Anita Cenerini, the woman who has been given the honoured post, holds a unique significance.
Anita Cenerini did not immediately agree take on the role of National Silver Cross Mother when she was first approached by the Royal Canadian Legion.
"It took me a while to ask the question: 'Did you pick me specifically because my son took his own life?'" she says.
"And their reply was yes."
It was the answer she had hoped for – an opportunity to champion continued change within the Canadian military as it seeks to confront and address mental health issues within its ranks and among former soldiers.
It was only recently that her son, Thomas Welch, was finally honoured with the Memorial Cross, a memento of loss given to the loved ones of Canadian soldiers who died on active duty, or whose death was attributed to such duty.
The young soldier was deployed to Afghanistan in August 2003. It was his first mission overseas, and he was just 21 years old, a C9 Gunner with the 3rd Battalion of the Royal Canadian Regiment.
Mrs Cenerini says he "was a great encourager".
"He was actually highly regarded in the military for being someone to lift the morale of his comrades.
"And he was sensitive, he was really sensitive to the needs of others. He was a quiet person without many words but he had an incredible sense of humour and he loved to see people laugh, he loved for there to be laughter in the world. It made him sad to see brokenness."
She said her son spoke to her early in his tour of the conditions faced by women and children in Afghanistan at the time – they "weighed heavy on his heart".
He asked her to send extra sweets in his care packages so he could hand out the treats to local children.
But his family noticed a change when the young soldier returned from his tour.
"When he came home, he was unable to cope with even just the smallest things that you and I can cope with easily on a day-to-day basis," she said.
"His mental health had deteriorated to the point where everything was so arduous, so painful, and brought up so much anger in a young man who never expressed anger before."
He killed himself on 8 May 2004, less than three months after his return.
His death is marked as the first suicide of a Canadian soldier after returning home from the Afghanistan mission. But it was not initially recognised as being connected to his military service.
It was only after his story was covered by the Globe and Mail newspaper and his family spoke with military investigators about Mr Welch's state of mind following his deployment that Veterans Affairs changed its conclusion.
Mrs Cenerini is the first Silver Cross Mother – a legion tradition dating to 1936 – whose child died by suicide.
She says that Canada's Armed Forces has made strides since her son's death when it comes to addressing mental health.
"I have seen that change for myself," she said. "I know what was there and wasn't there for Thomas when he returned home."
Canada released statistics last year that found veterans were at a higher risk of dying by suicide than people in the general population, similar to trends seen among former soldiers in the US, UK, and Australia.
There is a suicide prevention strategy in place for current and former soldiers, and a recognition that a military career gives people greater exposure to risk factors for mental illness.
But she says military families "cannot be complacent" in ensuring that shift continues.
One of her first duties will be to lay a wreath at the National Remembrance Day ceremony in Ottawa on 11 November.
She hopes other parents whose children served in the military and died by suicide will see, as she lays that wreath, that "change will continue for other soldiers present and future".
Where to get help
If you are depressed and need to ask for help, there's advice on who to contact at BBC Advice.
From Canada or US: If you're in an emergency, please call 911. If you or someone you know is suffering with mental-health issues, call Kids Help Phone at 1-800-668-6868. If you're in the US, you can text HOME to 741741
From UK: Call Samaritans on 116123 or Childline on 0800 1111
Source: Read Full Article