'Very substantial': E. Jean Carroll seeks new damages from Trump after CNN appearance
Save articles for later
Add articles to your saved list and come back to them any time.
Washington: Two weeks after a US federal jury found Donald Trump liable for sexual abuse and defamation, his accuser E. Jean Carrol has sought additional damages in response to the former president's ongoing insults.
The New York author, who was this month awarded $US5 million ($7.4 million) in a trial against Trump, is now seeking a "very substantial" additional amount after he continued to attack her on air just a day after she won her case.
E. Jean Carroll and Donald Trump.
The attacks were made during a one-hour town hall event broadcast live on CNN, in which Trump echoed his earlier claim that Carroll had "made-up" the story about being assaulted by him in a lingerie dressing room of department store Bergdorf Goodman in the mid-1990s.
Despite a photograph showing them together, he also claimed again that he had never met Carroll and used the CNN forum to call her a "whack job" and dismissed her account of the incident as "hanky-panky".
"I have no idea who this woman is. This is a fake story," Trump said.
CNN host Kaitlan Collins and former President Donald Trump at the town hall broadcast.
A filing lodged on Monday seeks an amendment to a complaint Carroll officially filed in 2019, which is still pending. In it, her lawyer Roberta Kaplan, argued that Trump's comments proved he was "undeterred by the jury's verdict" and had persisted in defaming her client yet again.
"This conduct supports a very substantial punitive damages award in Carroll's favour both to punish Trump, to deter him from engaging in further defamation, and to deter others from doing the same," the filing says.
Trump's appearance on CNN sparked widespread debate over if and how the cable network should have given the incendiary former leader, who is currently the frontrunner for the 20224 Republican nomination, such prominent air time.
In a sign of the ongoing ructions within the organisation, veteran CNN journalist Christiane Amanpour last week publicly rebuked the network over the event, in which Trump also reiterated his lies about electoral fraud, praised the rioters who violently attacked the US Capitol and called moderator Kaitlan Collins a "nasty person" – a phrase he often uses against women who challenge him.
"For me, I would have dropped the mic at 'nasty person,' but then that's me," Amanpour said during a commencement speech to the 2023 graduates of the Columbia Journalism School in New York City.
"I can only hope that your trust in us might have been shaken but not shattered."
However, CNN chief executive Chris Licht defended the broadcast as the network's journalistic duty, telling concerned staff last week: "If someone was going to ask tough questions and have that messy conversation, it damn well should be on CNN."
CNN drew in 2.3 million primetime viewers during the broadcast but shed most of that audience the following evening when only 538,000 primetime viewers tuned in.
But Trump didn't stop disparaging Carroll that night – in subsequent days, the 76-year-old continued to use his Truth Social platform to troll his 79-year-old accuser by drawing attention to her past social media posts (some of which discussed women seducing men); the name of her pet cat ("Vagina") as well as the judge and presiding over her trial (who Trump said "should be ashamed of themselves".)
"The whole Rigged Hoax is yet another TRAVESTY OF JUSTICE, a continuation of the greatest political Witch Hunt of all time!!!" he wrote.
Trump is currently the frontrunner to win the Republican nomination to run for president next year, although the race is likely to tighten this week when Florida Governor Ron DeSantis is expected to announce his intention to run.
The contest began to widen on Monday, when South Carolina Senator Tim Scott, the only black Republican in the US Senate, entered the field, pitching himself as the candidate "the far left fears the most".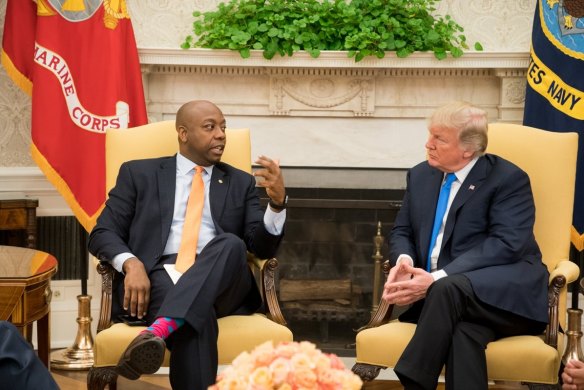 Donald Trump, US president at the time, speaks to Senator Tim Scott during a meeting at the White House in 2017.Credit: SMH
However, with 18 months until the election, the case against Carroll is only one of Trump's legal woes.
The twice impeached president was also indicted last month for hush money paid to a porn star, and is still under investigation on multiple fronts: election interference in Georgia; the mishandling of classified documents; and his role in the US Capitol attack.
The case against Carroll was particularly significant because Trump has been accused of sexual misconduct by more than two dozen women since the 1970s, and has denied every allegation. The jury's finding, however, represented the first time the former US president has been held accountable in a federal civil court for assaulting one of those women.
Carroll's victory did not amount to a complete vindication as the verdict stopped short of agreeing she was raped. However, the former Elle columnist was nonetheless awarded a substantial sum: $US2 million for sexual abuse and $US3 million for defamation.
"This victory is not just for me but for every woman who has suffered because she was not believed," she said after the verdict.
Get a note directly from our foreign correspondents on what's making headlines around the world. Sign up for the weekly What in the World newsletter here.
Most Viewed in World
From our partners
Source: Read Full Article