"Potent" atmospheric river hits California with heavy rain, flooding and outages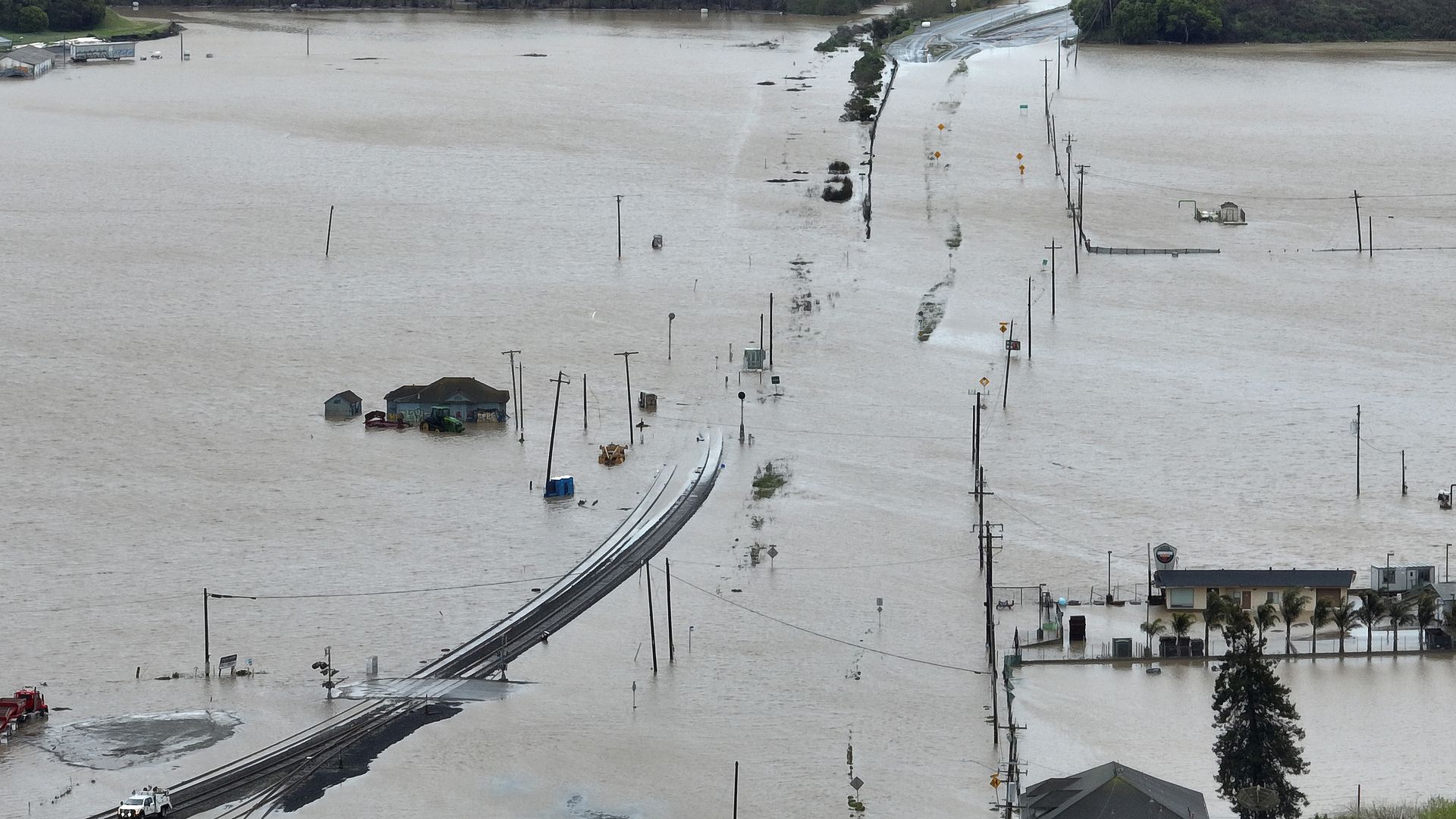 Floodwaters fill the streets of Pajaro, California, on Tuesday. Photo: Justin Sullivan/Getty Images
The latest atmospheric river to lash California has unleashed more historic rainfall, heavy snow and flash flooding across the state — as forecasters warn the worst is yet to come on Wednesday.
The big picture: Dozens of flood watches, warnings and advisories were in place across the Golden State The National Weather Service warned on Tuesday night this "potent storm" was "expected to produce heavy mountain snow and gusty winds from the Sierra to the central/northern Rockies" through Wednesday.
This atmospheric river is at least the 11th to hit California since December and follows on the heels of the one that struck the state from Friday and into the weekend — and many of those areas are getting soaked again by this latest storm.
In Northern California, where the Pajaro River's levee breached over the weekend, Monterey County officials reported crews had nearly closed a breach by Tuesday evening. However, over 10,000 residents in the county were under evacuation warnings and orders due to the swelling Salinas River, per the Los Angeles Times.
Threat level: Heavy precipitation was expected throughout late Tuesday, particularly for Southern California coasts and the south Sierra Nevada, where heavy snow was projected above 8,000 feet, per the NWS Weather Prediction Center.
The NWS has warned of potentially "catastrophic" flooding from this latest storm.
Heavy rain combined with snowmelt in areas below 5,000 feet is projected to cause widespread flooding Wednesday.
Residents in the Los Angeles area were warned about roadway flooding and rock and mudslides.
By the numbers: The NWS' Los Angeles office reported preliminary data showing longstanding rainfall records had been smashed at airports in Los Angeles (0.61"), Santa Barbara (2.13"), Santa Maria (1.29") and Paso Robles (0.9").
Nearly 271,00 people were without power in California on Tuesday evening — mainly in the Bay Area, per Poweroutage.us.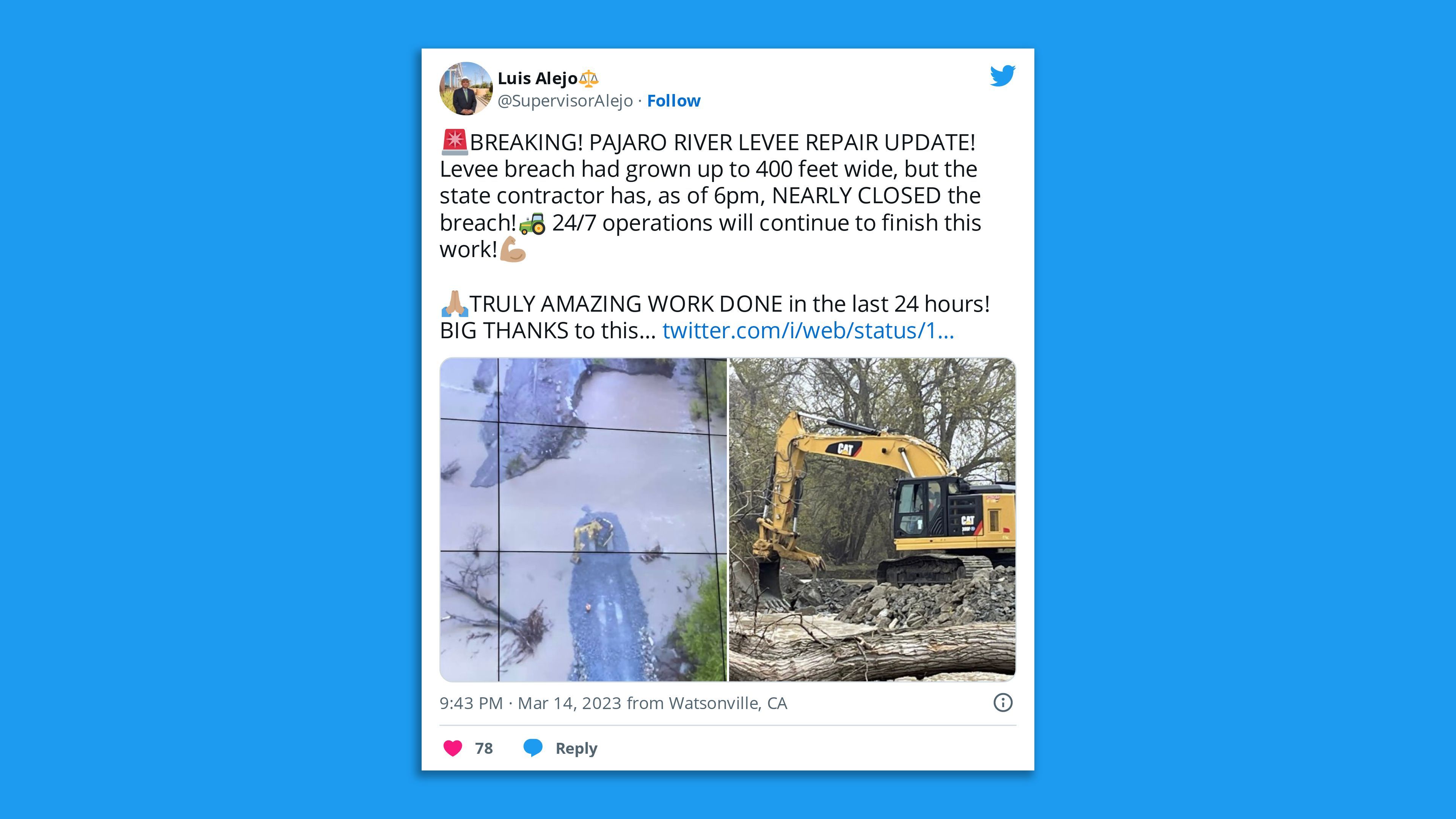 State of play: Schools and roads were closed across California, as evacuation orders and warnings were in effect for communities along Pajaro and other rivers due to rising floodwaters and the threat of further inundation.
Forecasters warned the heaviest rain was expected over the northern Sierra Nevada Shasta County, where an evacuation order was issued on Tuesday evening "due to heavy flooding," according to the local sheriff's office.
In San Francisco, officials said powerful winds broke two windows in a high rise as heavy rain came down. There were no immediate reports of injuries.
Meanwhile, the southern Sierra Nevada appears to have recorded its largest-ever snowpack — more than 260% above its seasonal average, according to the California Department of Water Resources.
The U.C. Berkeley Central Sierra Snow Lab reported Tuesday morning that another 13.6" of snow had fallen "and that takes us to within 7" of the winter 1982/1983 total, which is currently second snowiest all-time" at the central Sierra snow laboratory.
The "way that we get down into the lab right now is by going down into this big chasm of snow," the lab noted in a tweet.
Context: Atmospheric rivers are narrow highways of moisture that can travel thousands of miles, from the tropics to mid-and-northern latitudes.
Studies show climate change is intensifying these events as warmer air carries additional water vapor and also yielding sharper swings between precipitation feasts and famine in California, per Axios' Andrew Freedman.
Editor's note: This is a breaking news story. Please check back for updates.
Source: Read Full Article