Man attempted to bring explosive device onto plane, FBI alleges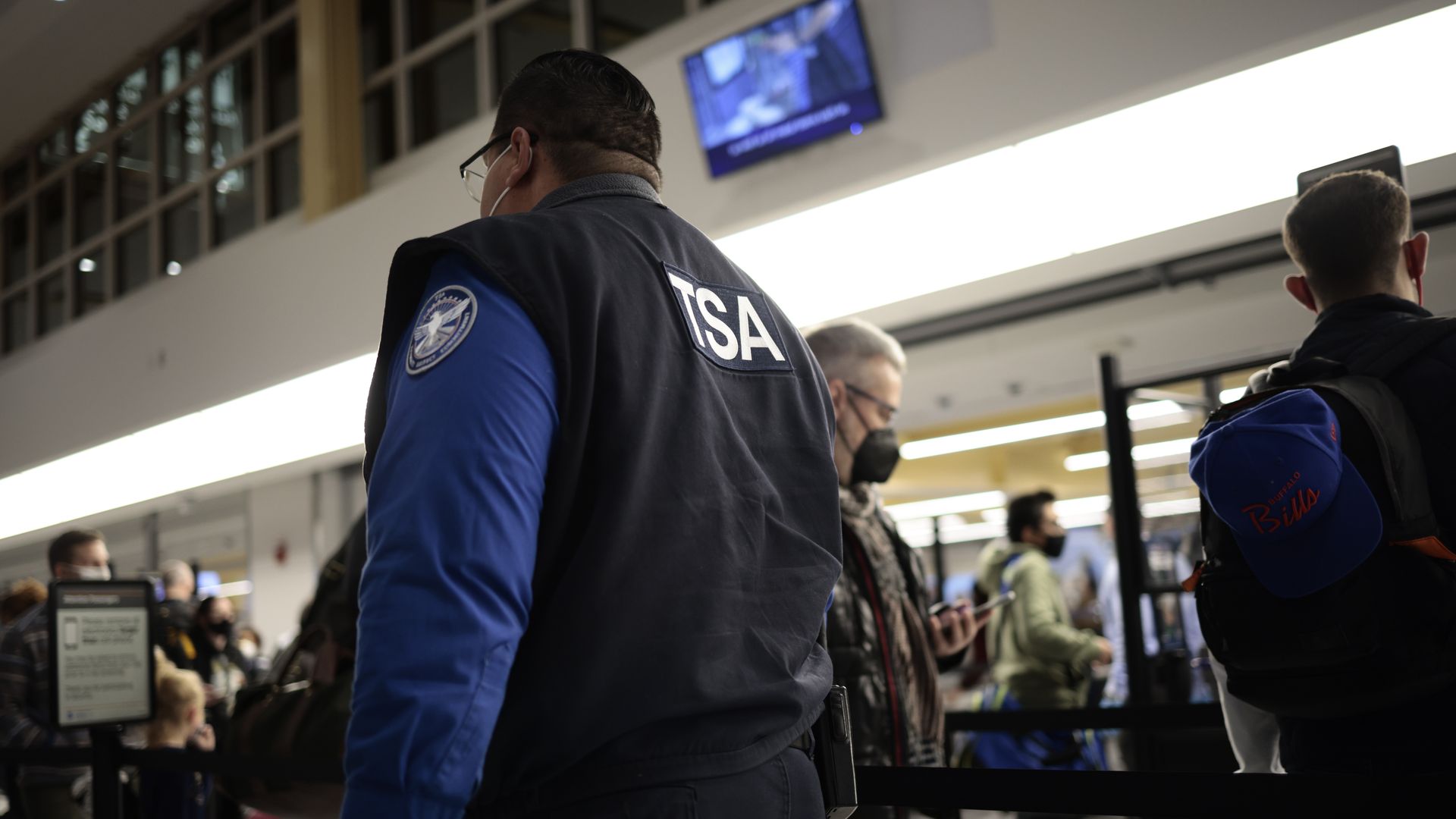 A TSA officer watches people go through the security checkpoint at the Ronald Reagan Washington National Airport on Nov. 24, 2021 in Arlington, Virginia. Photo: Anna Moneymaker via Getty Images
A Pennsylvania man was arrested after attempting to bring an explosive device onto an airplane on Monday, federal authorities said Wednesday.
Driving the news: A Transportation Security Administration (TSA) officer discovered a circular compound with two fuses and concealed powder hidden in the lining of Mark Muffley's checked bag, the FBI's criminal complaint alleges.
Muffley, 40, was scheduled to fly to Sanford, Florida near Orlando on an Allegiant Air plane departing from Lehigh Valley International Airport.
The discovery, made during a routine screening, led the airport to evacuate the immediate area and bring in FBI and local law enforcement bomb technicians who determined that the compound was indeed an explosive device, TSA said in a statement Wednesday.
Details: The "powder is suspected to be a mixture of flash powder and the dark granulars that are used in commercial grade fireworks," per the complaint.
The suitcase also contained "a can of butane, a lighter, a pipe with white powder residue, a wireless drill with cordless batteries, and two GFCI outlets taped together with black tape."
Security cameras showed Muffley leaving the airport after the airport's public system paged him to come to the security desk, prosecutors said. The FBI arrested him at his residence Monday night.
Muffley faces charges of possessing an explosive in an airport and possessing or attempting to place an explosive or incendiary device on an aircraft. He is scheduled for a court appearance on Thursday afternoon.
Context: U.S. airports have seen a rise in weapons brought by passengers in recent years.
TSA officers intercepted a record number of firearms at airport security checkpoints in 2022 — a nearly 10% increase from 2021.
Approximately 900 firearms have been detected in carry-on bags so far this year at TSA security checkpoints, TSA spokesperson Lisa Farbstein said in a statement to Axios.
Source: Read Full Article