Farewell to the Nicholas Building and the creative community I found there
Four years ago, I found myself a workspace refugee. Evicted from my rented office in Prahran – the owner was refurbishing the building to attract a higher-class of tenant – I was left wandering the streets with my laptop, no desk of my own, let alone a room.
Fed up, I started trawling online for vacant office space. A desk was available in the Nicholas Building on Swanston Street. Nearly 100 years old, the Nicholas – Melbourne's grandest example of "Chicago-style" – is home to more than 100 "creatives" from tattooists and milliners to psychics and, until a decade ago, Melbourne's last manually operated lift.
Milliner Serena Lindeman was one of the many creatives who worked in the Nicholas Building. Pictured here in her studio in 2021.Credit:Simon Schluter
But I would have to share the room with three others — a scary prospect for a hard-core neurotic lurching from one deadline to the next. What if I got stuck with a manic 24-year-old with colourful hair and an even more colourful life swirling LOUDLY about them? Still, I sent a tentative email expressing interest and scheduled an interview with my potential roommates.
The studio, on the fourth floor, has large windows looking out at Flinders Street Station. One of the tenants, I'd soon learn, dabbled in textiles so half the room echoed the building's commercial history in the post-war rag trade: long tables with industrial rolls of fabric, a rack of garments, a sewing machine. At the far side, a curtain hid … I'm still not sure what.
My interviewers were, thankfully, decades past their 20s; one, a fine artist, and the other a man whose corner of the room was piled high with documents. He explained he was working on a PhD – about PHDs.
"I'm the department of meta," he grinned.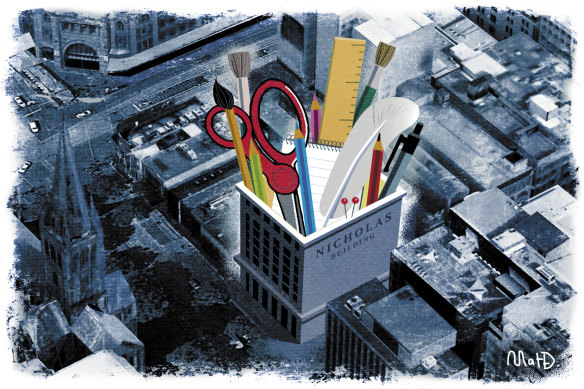 IllustrationCredit:Matt Davidson
After about 20 minutes of talk, the three of us clasped hands. "This is going to work," said the artist. Her smile is as radiant as her drawings – swirling, furious bursts of colour with titles such as Tonal Reflection and Layered Elements.
And work we did, forging a pint-sized multidisciplinary team.
To get meta on you: one week, I was scratching around for a theme for this column, when meta-man said: "As I was riding over here, I was thinking about the HomeBuilder grant …"
Sometimes, a single word from someone else can unlock your thoughts; a piece on the government's stimulus measure presented itself, almost fully formed, in my mind.
Cathedral Arcade inside the Nicholas Building.Credit:Simon Schluter
I wish I could say I've mined all the potential synergies in the vibrant vertical community, but routine settles in fast. I only met the Peruvian bespoke tailor because he helped me out one of the many times I'd dashed to the toilet without my room key and locked myself out.
During the pandemic, fabrics lady produced artsy face-masks at the sewing machine. Outside, anti-lockdown protesters beat their drum as police choppers circled.
We watched storm clouds gather above the station's dome. One afternoon, a sparrow flitted anxiously around the stairwell.
Years passed.
The Nicholas Building in Swanston St. Summers can be hot and winters, freezing.Credit:Simon Schluter
A 100-year-old building means baking in summer and straddling oil heaters in winter. And with the Metro Tunnel construction site next door, working requires noise-cancelling headphones. "So good luck finding new tenants," I scoffed last month on the phone with the real estate agent. "Especially with all the vacant office space in the CBD!"
It was worth a bluff, though of course none of what transpired is the agent's fault. Even if she was pushing it when she purred, "I absolutely respect your right to leave", having told us the rent would double.
The writing was on the wall in June 2021 with news the Nicholas was on the market. We four preferred to underplay the ominous development. Who'd buy this decaying museum piece, we joked, all bravado. You'd have to spend the equivalent of a small nation's GDP to fashion, say, a boutique hotel from this creaking, leaking, hulk of heritage.
The tenants' body, the Nicholas Building Association, swung into action. They announced a consortium of civic-minded investors was ready to purchase the building to ensure the hanging-by-a-thread tenants remained in situ. They had a plan to preserve, revitalise, cross-subsidise. The second-floor ballroom, unused for decades, would reopen! There would be new EVENTS spaces! A rooftop garden!
They were just waiting for the state government to cough up some cash.
They're still waiting.
Meanwhile, the owners are hiking rents to lure buyers. We're among many Nicholas tenants to have been forced out since December.
I sincerely hope people find a way to keep this unique colony going.
The Cathedral Coffee shop at the Nicholas building.
As for me and my comrades, once we faced reality, we faced it stoically. For the most part, we're not inclined to special pleading, as resigned to the vagaries of the commercial property market as we are to the weather.
I only wish there was a word – maybe the Germans have one – to describe the peculiar grief of losing an accidental community that's become part of your emotional architecture. In the aftermath of COVID-19's disruption, there's surely plenty such heartache around.
At least I travelled light. The week before last, with my partner waiting in the car in Flinders Lane, I rode one of three ornate lifts to the fourth floor. I grabbed my oil heater, gave fabrics lady a quick hug, and cleared out.
Julie Szego is a regular columnist.
The Opinion newsletter is a weekly wrap of views that will challenge, champion and inform your own. Sign up here.
Most Viewed in National
From our partners
Source: Read Full Article