Coronavirus: Blackburn launches own contact-tracing scheme as national system 'too slow'
The council with the highest rate of coronavirus infections in England has launched its own contact-tracing scheme because the government's national system isn't fast enough, a local official has claimed.
Dominic Harrison, the director of public health and wellbeing at Blackburn with Darwen Council, revealed the local authority is developing its own contact-tracing system as it deals with a local spike in COVID-19 cases.
"The national system is simply not tracing enough cases and contacts fast enough," he said.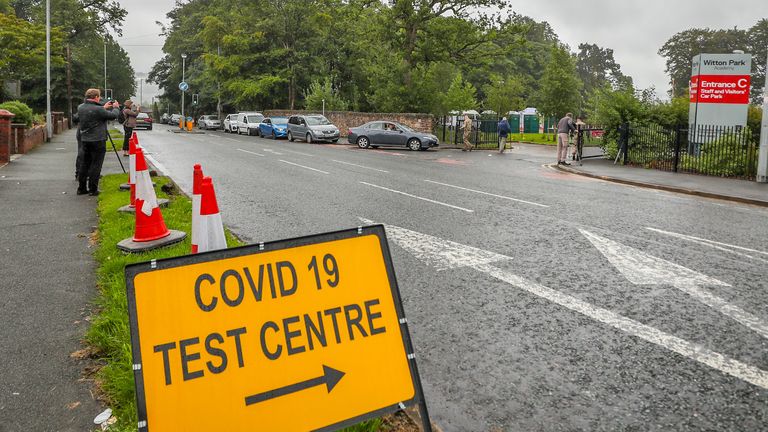 "We are starting with 'case tracing'."
Last month, Blackburn and Darwen was placed on the highest level of the coronavirus watchlist and designated an "area of intervention" by Public Health England (PHE).
More stringent rules have since been introduced in the local area, along with many other parts of Lancashire, Greater Manchester and West Yorkshire.
In the seven days to 27 July, Blackburn and Darwen saw a rate of 83.3 cases per 100,000 people, which put it ahead of all other local authorities in England.
Blackburn with Darwen Council said it will now use its local knowledge if the national contact-tracing process has been unable to contact someone.
Paul Fleming, director of business change at Blackburn with Darwen Council, is leading the development of the new contact-tracing system.
"Test and trace is a vital part of the national strategy to get the virus under control," he said.
"It is even more vital in areas like ours where we have a rising tide of cases.
"Our system complements the national system because we have the local knowledge of the area and the ability to send officers round to people's addresses.
"Our system is also beneficial because we can refer those who need to isolate to local support services if necessary.
"Our system has already gone live and we are already seeing its benefits as we have managed to contact people the national system couldn't.
"I want to ask all residents to continue to work with us, continue to follow our advice and guidance and continue to take responsibility.
"Together we will beat the virus."
Source: Read Full Article