U.S., Japan, Australia conducted naval exercises in South China Sea Monday – U.S. Navy
Logitech Q2 Results Top View; Lifts FY21 Outlook
Logitech International (LOGI) reported that its net income for the second quarter of fiscal year 2021 increased to $266.91 million or $1.56 per share from $72.93 million or $0.43 per share in the prior year.
Quarterly non-GAAP earnings per share grew 274 percent to $1.87 from $0.50 in the previous year. Analysts polled by Thomson Reuters expected the company to report earnings of $0.57 per share for the quarter. Analysts' estimates typically exclude special items.
Sales for the second-quarter were $1.26 billion, up 75 percent in US dollars and 73 percent in constant currency, compared to the prior year. This was the first time ever that the company's quarterly sales exceeded the billion-dollar mark, Logitech said. Analysts expected revenue of $834.55 million for the second-quarter.
Logitech raised its fiscal year 2021 outlook to between 35 and 40 percent sales growth in constant currency, and a range of $700 million to $725 million in non-GAAP operating income. The Company's previous outlook was between 10 and 13 percent sales growth in constant currency, and a range of $410 million to $425 million in non-GAAP operating income.
China's Export Continue To Rise; Imports Rebound
China's exports continued to expand as global industrial operations resumed gradually and imports rebounded in September driven by robust domestic demand, official data revealed on Tuesday.
Data from the General Administration of Customs showed that exports grew 9.9 percent year-on-year, faster than the 9.5 percent increase seen in August but slightly slower than economists' forecast of 10 percent growth.
At the same time, imports advanced 13.2 percent in September, in contrast to a 2.1 percent decline a month ago. Imports were forecast to rise marginally by 0.3 percent.
Consequently, the trade balance showed a surplus of $37 billion compared to the expected level of $58 billion. The surplus totaled around $58.9 billion in August.
In the near-term, infrastructure-led stimulus looks set to continue which, alongside a gradual recovery in oil prices, is likely to keep imports strong, Julian Evans-Pritchard and Sheana Yue, economists at Capital Economics, said.
Meanwhile, exports should continue to benefit from the recovery in global demand, the economists noted.
Data revealed that the trade with the U.S. resulted in a surplus of about $30.8 billion in September.
In yuan terms, exports increased 10.2 percent year-on-year and imports advanced 4.3 percent in the third quarter.
Live Updates: 2020 presidential race heats up 2 weeks before Election Day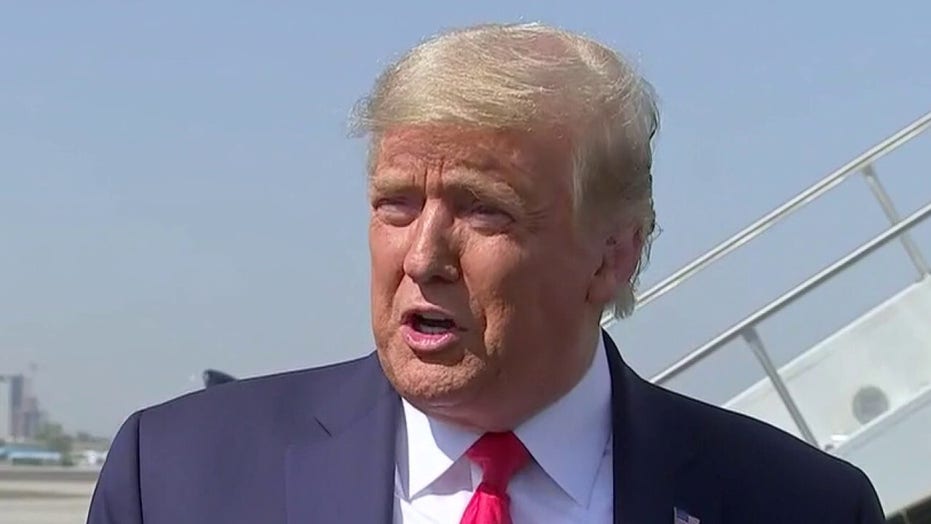 Trump campaign urges debate commission to reconsider topics
Fox News White House correspondent John Roberts has the latest on 'Special Report'
The presidential race is heating up between President Trump and former Vice President Joe Biden, as they continue to battle just two weeks before Election Day.
The Commission on Presidential Debates (CPD) will mute both candidates during the two-minute response times allotted to their opponents for commenting on topics for Thursday's final debate in Nashville, Tenn.
Follow below for more updates on the 2020 presidential race. Mobile users click here.
Malaysia Ruling Parties UMNO, PAS to Formalize Pact Amid Turmoil
The United Malays National Organisation (UMNO) and Pan-Malaysian Islamic Party (PAS) pledged to strengthen cooperation in preparation for the next general election, leaders from the two ruling parties said in a joint statement.
UMNO and PAS will register their alliance under the name 'Muafakat Nasional' with the Registry of Societies Malaysia
The statement did not mention Prime Minister Muhyiddin Yassin's Bersatu party
NOTE: Key Malaysia Party Threatens to Leave Ruling Bloc, Pressuring PM
UBS Q3 Profit Surges, Proposes Dividend; Sees Q4 Credit Loss Expense Lower Than H1
Swiss banking giant UBS Group AG (UBS) Tuesday reported that its third-quarter net profit attributable to shareholders surged 99 percent to $2.09 billion from last year's $1.05 billion. Earnings per share were $0.56, up 101 percent from $0.28 last year.
Profit before tax was $2.6 billion, 92 percent higher than last year. The company said it is the best third quarter profit before tax in a decade. Adjusted profit before tax was $2.1 billion.
Operating income grew to $8.94 billion from last year's $7.09 billion.
The bank said the quarterly results mainly reflected ongoing strong client activity.
Further, UBS said its Board of Directors proposed the second tranche of 2019 dividend of $0.365 per share to be paid in November 2020.
Looking ahead, the bank said that at this stage, it is reasonable to expect credit loss expense in the fourth quarter of 2020 to remain markedly lower than in the first half of the year.
The bank said, "…recent increases in COVID-19 cases create renewed uncertainty, which could affect the path of recovery. ….Our ongoing growth initiatives and other actions to drive net interest income should offset US dollar interest rate headwinds. Going forward, the pandemic and political uncertainties may lead to periods of higher market volatility and could affect client activity positively or negatively."
U.S., Japan, Australia conducted naval exercises in South China Sea Monday – U.S. Navy
TOKYO (Reuters) – The United States, Japan and Australia conducted trilateral naval exercises in the South China Sea on Oct. 19, the U.S. Seventh Fleet said on Tuesday.
It was their fifth joint operations this year in the fleet's area of operations, it said in a statement.
The operations took place as the United States and its allies have stepped up calls for a "free and open" Indo-Pacific amid mounting concerns about China's assertiveness in the region.