TD Gets 13.5% Stake In Charles Schwab Following Completion Of TD Ameritrade Transaction
Gold Eases On Improved Risk Sentiment
Gold prices were moving lower on Tuesday, but the downside remained limited as the dollar weakened on improved risk sentiment.
Spot gold held largely steady at $1,912.28 per ounce, while U.S. gold futures were down 0.1 percent at $1,917.65.
There are signs of recovery in risk sentiment after U.S. President Donald Trump, who is Covid-19 positive, returned to the White House after being discharged from hospital on Monday evening.
Trump was rushed to Walter Reed hospital on Friday after testing positive for coronavirus. After four days of emergency treatment, he checked out of hospital on Monday at 6:30 pm ET. His physician said Trump would continue treatment from the White house.
Trump later tweeted, "Will be back on the Campaign Trail soon!!! Don't be afraid of Covid."
On the stimulus front, House Speaker Nancy Pelosi and Treasury Secretary Steven Mnuchin spoke by phone for about an hour about coronavirus relief on Monday, but emerged without an agreement.
They are expected to talk again today, continuing a recent flurry of activity working towards a deal on legislation.
White House Chief of Staff Mark Meadows said on Monday there is still potential to reach agreement.
"Even if a large comprehensive bill is not possible . . . let's go ahead and pass a number of things that we can agree on," Meadows said in an interview on Fox Monday morning.
Jamming during a Pandemic
Over the weekend, Kenya hosted its first social-distance culture and music event where people enjoyed live bands while they could sit in their vehicles so there is less risk of spreading COVID-19. The Kikwetu festival aims to bring Kenyans together, despite the pandemic, to celebrate the country's cultural diversity.
Himax Technologies Prelim. Q3 Results Exceed Its Guidance – Quick Facts
Himax Technologies, Inc. (HIMX) pre-announced preliminary third quarter key financial results. Non-IFRS earnings per ADS were expected to be around 7.3 cents, exceeding the company's guidance of around 3.5 cents to 4.3 cents per ADS. This represents an increase of 281.6% year-over-year. Preliminary third quarter revenues were $239.9 million, an increase of 46.1% year-over-year.
"We are seeing continued strong business momentum across all our major business sectors in the fourth quarter. We will give further details in the next earnings call," said Jordan Wu, CEO of Himax.
Pfizer, BioNTech Begin Rolling Submission To EMA For SARS-CoV-2 Vaccine Candidate
Pfizer Inc. (PFE) and BioNTech SE (BNTX) announced the initiation of a rolling submission to the European Medicines Agency for BNT162b2, their lead candidate against COVID-19. The companies plan to work with the EMA's Committee for Medicinal Products for Human Use to complete the rolling review process to facilitate the final Marketing Authorization Application.
The companies noted that the CHMP has begun evaluating data generated in pre-clinical trials. The formal MAA submission could be finalized following the rolling review process, pending confirmation from the EMA that the submitted data are adequate.
The BNT162b2 vaccine candidate is based on BioNTech's mRNA technology and supported by Pfizer's global vaccine development and manufacturing capabilities. The vaccine candidate is currently being evaluated in a global Phase 3 study.
Twitter Developing Birdwatch To Warn About Misleading Tweets: Reports
Twitter is working on a new feature, named "Birdwatch," which reportedly will warn Twitter users about misleading tweets. The details are yet to be known, while the social media platform said it will share more information about the new feature soon.
In a reply to reverse engineer Jane Manchun Wong, who first reported about the new feature, Twitter product lead Kayvon Beykpour said, "…On Birdwatch, excited to share more about our plans here soon."
The news comes amid the ongoing chaos as tweets were shared wishing or hoping for the death for U.S. President Donald Trump after he was tested Covid-19 positive. He now returned to the White House after being discharged from hospital on Monday evening.
Twitter said in a statement that "tweets that wish or hope for death, serious bodily harm or fatal disease against *anyone* are not allowed and will need to be removed. this does not automatically mean suspension."
Birdwatch, the new feature likely to root out misinformation, is expected to appear as a tab in each tweet's drop-down menu, which will allow users to attach a note to a misleading tweet. The tab may come along with existing moderation features Mute, Block, and Report.
Live Updates: Trump back at White House after coronavirus diagnosis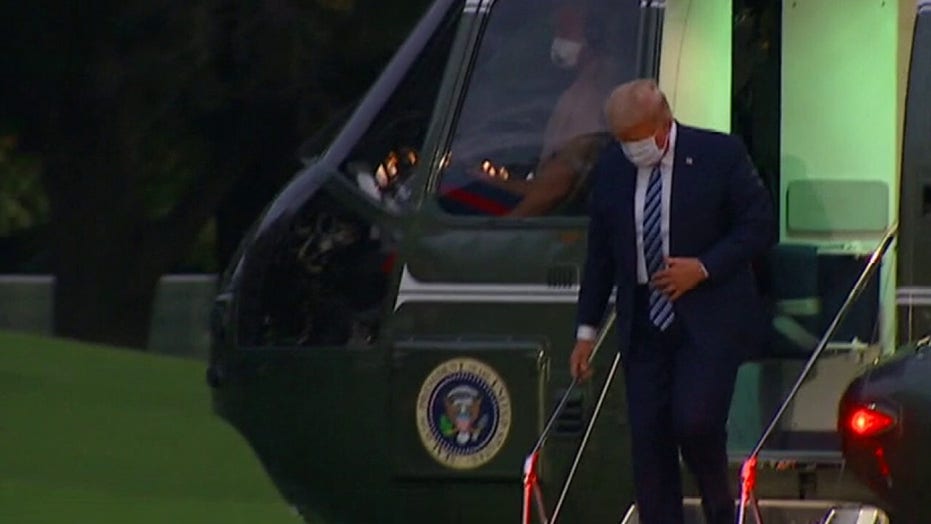 What are the national security implications of Trump's illness?
Former Secretary of Defense Chuck Hagel joins Martha MacCallum to share his insight on 'The Story.'
President Trump was discharged from Walter Reed National Military Medical Center and returned to the White House on Monday, although officials said he is not fully "out of the woods."
Trump shocked the world early Friday morning when he announced that both he and first lady Melania Trump tested positive for the coronavirus
Follow below for more updates. Mobile users click here.
TD Gets 13.5% Stake In Charles Schwab Following Completion Of TD Ameritrade Transaction
TD Bank Group (TD,TD.TO) confirmed Tuesday that upon closing of the acquisition of TD Ameritrade Holding Corp. (AMTD) by Charles Schwab Corp. (SCHW), TD received an approximately 13.5% stake in Schwab, consisting of 9.9% voting common shares and the remainder in non-voting common shares which are convertible into voting common shares upon transfer to a third party.
The Stockholders' Agreement and the revised and extended long-term IDA Agreement between the Bank and Schwab are also now effective.
TD expects to record a revaluation gain of approximately $2.3 billion based on a Schwab share price of $36.94 and the impact of certain adjustments. The transaction is expected to be approximately neutral to capital at closing.
TD has also nominated Brian Levitt, Chair of the Board of TD Bank, and Bharat Masrani, Group President and CEO of TD Bank, to the Schwab Board of Directors.