Analog Devices Guides Q2 In Line With Estimates, Declares Dividend – Quick Facts
Dish Network Lost 194,000 Pay TV Subscribers In Q4, Fewer Than The Year Before
Satellite TV provider Dish Network said Wednesday net pay-TV subscribers dropped by 194,000 in the fourth quarter to about 12 million, including 9.4 million for DISH TV subs and 2.59 million for Sling TV.
But the Denver-based company reported a net decrease of 334,000 in the year-ago quarter, so the loss has narrowed year-over-year.
Dish said net income rose to $389 million, or 69 cents a share- beating consensus by a nickel – from $337 million, or 64 cents the year before. Revenue eased to $3.24 billion from $3.31 billion.
ARPU, or average revenue per user, a key metric rose to $87.02 from $85.55.
The shares were up 1.72% in pre-market trade, after notching gains of 3.3% on Tuesday.
The company is holding a conference call with investor at noon to discuss the numbers. Pay TV earnings help Wall Street and the industry determine how and how quickly subscribers are migrating from traditional programming bundles. Dish is in a particularly interesting moment as it is poised to enter the wireless market with a nationwide consumer offering and standalone 5G broadband network following the merger of T-Mobile and Sprint. The two companies have agreed to sell assets to Dish that it will use to springboard its wireless launch.
Other big pay-TV companies like Comcast, Charter and Altice USA have also launched wireless operations in a move to diversify revenue sources.
India Has Built Donald Trump A Wall. Critics Say It's For The Worst Reason.
Authorities in India's Gujarat state have built a wall ahead of President Donald Trump's visit next week.
Government officials say the 1,640-feet-long brick barrier in the city of Ahmedabad was constructed "for security reasons" and is "part of a beautification and cleanliness drive," The Associated Press reported on Tuesday.
But critics allege the four-foot-high wall is meant solely to hide a slum from the view of Trump and Indian Prime Minister Narendra Modi, who are set to be driven past the area ahead of Trump's appearance at the 110,000-capacity Motera Stadium, the world's largest cricket venue.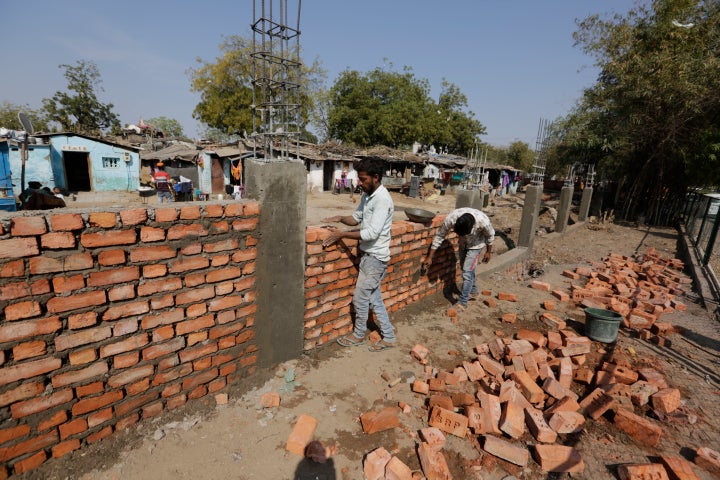 "Since they are spending so much money on this wall, why not use that to improve our slum and provide better facilities for us?" asked Keshi Saraniya, one of the 2,000 people who live in the downtrodden area.
"Why are they hiding us poor people?" Saraniya continued, according to AP.
Trump, whose pledge to build a wall on the U.S.-Mexico border was a key part of his 2016 election campaign, will visit India on Monday and Tuesday.
Housing starts dip 3.6% in January, but permits hit 13-year high
WASHINGTON (MarketWatch) – Construction on new homes slipped 3.6% in January, but permits rose to a nearly 13-year high in a sign that builders plan to pick up the pace in the spring. New housing starts slipped as expected last month after a surprising surge at the end of 2019 that pushed housing starts to a 13-year high. Housing starts fell to an annual pace of 1.57 million, the Commerce Department said Wednesday. Economists polled by MarketWatch had forecast a seasonally adjusted 1.43 million rate. Yet permits to build new homes climbed 9.2% to an annual clip of 1.55 million, marking the highest level since March 2007. Both starts and permits are sharply higher compared to one year ago, reflecting a rebound in the housing market tied to tumbling interest rates. For December, housing starts were revised up to a 1.63 million rate from 1.61 million.
November recall drags down Fresh Del Monte Produce sales
Average American spends nearly $8K on food per year
Eating takes up a sizable amount of finances; Fox Biz Flash: 1/15.
Fresh Del Monte Produce reported a loss in the fourth quarter primarily due to a November vegetable recall.
Continue Reading Below
The supplier of fresh and prepared produce reported a loss of $25.8 million, or 54 cents a share, compared with a loss of $34.0 million, or 70 cents a share a year earlier.
Adjusted loss per share was 45 cents.
WHAT IT COSTS TO EAT ORGANIC
| Ticker | Security | Last | Change | Change % |
| --- | --- | --- | --- | --- |
| FDP | FRESH DEL MONTE | 34.01 | -0.47 | -1.36% |
Total revenue for the company was $1.03 billion, compared with $1.05 billion a year earlier.
GET FOX BUSINESS ON THE GO BY CLICKING HERE 
The decrease in sales was attributed to lower sales volume of its fresh-cut vegetables product due to a voluntary recall in November 2019.
Analog Devices Guides Q2 In Line With Estimates, Declares Dividend – Quick Facts
While reporting financial results for the first quarter fiscal 2020 on Wednesday, analog technology company Analog Devices Inc. (ADI) provided earnings and revenue guidance for the second quarter.
For the second quarter, the company projects earnings in a range of $0.65 to $0.81 per share and adjusted earnings in a range of $1.02 to $1.18 per share on projected revenues between $1.30 billion and $1.40 billion.
On average, analysts polled by Thomson Reuters expect the company to report earnings of $1.13 per share on revenues of $1.38 billion for the quarter. Analysts' estimates typically exclude special items.
While the effects of the coronavirus are difficult to estimate and the situation remains dynamic, the company has reduced its revenue guidance by $70 million to account for its potential impact.
"Encouragingly, demand across our end markets has stabilized and is beginning to show signs of improvement as we enter our fiscal second quarter," said Vincent Roche, President and CEO.
The company's Board of Directors also declared a quarterly cash dividend of $0.62 per outstanding share of common stock, payable on March 10, 2020 to all shareholders of record at the close of business on February 28, 2020.