Philippines to charge critical journalist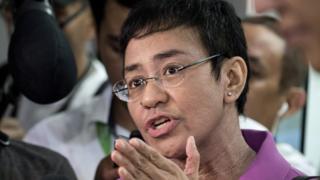 The Philippines says it will charge the major news site Rappler, which has been critical of President Rodrigo Duterte, with tax evasion.
Prosecutors said on Friday they also have grounds to indict founder Maria Ressa for violating tax laws after not declaring gains made in tax returns.
Rappler has denied the charges, calling the case a "clear form of continuing intimidation and harassment".
If found guilty Ms Ressa could be fined and jailed for up to 10 years.
The government accuses Rappler and its chief executive of failing to pay tax on 2015 bond sales which resulted in 162.5 million pesos ($3 million; £2.3 million) in gains.
The English-language outlet's lawyer told journalists the case "has no legal leg to stand on" because Rappler did not evade any tax obligation.
A justice department official told news agency AFP the charges would be filed in court next week.
Earlier this year, the site had its licence revoked by the state, igniting a national debate about press freedom.
What is Rappler?
Founded in 2012 by Ms Ressa, a former CNN journalist, Rappler has grown a reputation for its hard-hitting, investigative journalism.
The online news site is one of the few Philippine media organisations openly critical of the country's leader, questioning his public statement's accuracy and particularly his deadly war of drugs.
The president has labelled the site's reports as "twisted" and banned its reporter from covering his official activities.
"It is meant for maximum impact of intimidation," Ms Ressa told The New York Times on Friday after receiving an award from the International Center for Journalists in Washington, DC.
The Philippines has had one of the strongest records of press freedom in Asia, but observers say this has changed Mr Duterte's presidency.
In 2016, Mr Duterte was criticised for saying some of the many journalists killed in the country deserved to die.
Since 1986, 176 journalists have been killed in the country, making it one of the most dangerous in the world for reporters.
Source: Read Full Article