North Korea's teen footballers and the road to peace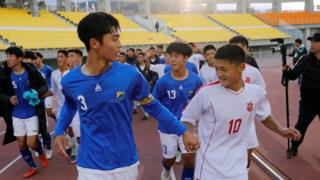 What does it take to help bring the Korean peninsula back from the brink of war? It turns out that there are two key ingredients: soccer and soju.
Last December, as US President Donald Trump was threatening Pyongyang with fire and fury and Kim Jong-un was describing the US president as a "dotard", others were looking for opportunities to ease the rising tensions.
Choi Moon-soon, the governor of Gangwon province, hoped he could give sports diplomacy a chance.
His region sits on the border with North Korea and he describes it as one of the last divided provinces in the world. Gangwon was also getting ready to welcome countries from across the world to the 2018 Pyeongchang Winter Olympics. But there was one key country missing – South Korea's neighbour.
Mr Choi wondered what he could do to change this. His next move was a long shot but it paid off.
He travelled to the Ari Sports Cup which on that occasion was being held in Kunming, China.
It is an under-15 football tournament which started in 2014 and is organised by the Inter-Korean Sports Exchange Association.
It had been cancelled earlier in the year after Pyongyang tested a number of ballistic missiles. However, Mr Choi realised this was one of the only diplomatic channels left open to the two Koreas.
"Even when North and South relations were at their worst, this was the only method of exchange that went on," he told me."So we used this last thread of communication between the two countries to ask North Korea to come and take part in the Pyeongchang Winter Olympics."
He met with Mun Ung, a vice-minister-level official who heads a North Korean Athletic Committee.
I asked what went on behind the scenes. He wouldn't give too much away but laughed and said that the informal talks had been fuelled by lots of soju – a rice liquor popular across both Koreas.
Mr Choi hoped that his invitation to take part in the Winter Olympics would be passed to higher ranking ministers in North Korea.
It went higher than many could have hoped.
Kim Jong-un announced in his New Year's speech that he hoped to send a large delegation to the Games.
'See you soon in Pyongyang'
A few months later Mr Choi was there to see the two Korea's march together at the Opening Ceremony.
"I was in awe, proud and emotional when the unified Korean team came into the stadium during the opening ceremony waving unification flags. The current peace atmosphere was created by that moment. I hope we can create more of these small but meaningful events."
Mr Choi has since travelled to Pyongyang and met with Kim Jong-un.
But this week he is back on the sidelines of the football field. The Ari Sports Tournament has come to Gangwon province.
Once again, Mr Choi and Mr Mun are side by side watching their teams play. One wonders what messages may be heading north this time. They were certainly giving nothing away.
As for the match, North Korea won 3-1 and looked the stronger team throughout.
North Koreas Rhee Il-song spoke to us after the game. This is his first time on South Korean soil. "Now that I've come here it's not even that far. I hope in the future we can come and go more often and build friendships."
The South Korean player Kim Ga-on added to that.
"It was very emotional at the end when we were running together and I hoped we could unify soon so that can we can be one again to play football together."
The players left arm and arm. And with a friendly pat on the shoulder, one North Korean turns to his Southern counterpart and says, "see you soon in Pyongyang".
Soccer diplomacy
Many fear that disarming the North may prove impossible. There has been little progress on denuclearisation in recent months despite the showy US-North Korean summit in Singapore and meetings between President Moon and Kim Jong-un at the border and in Pyongyang.
But just seeing both sides on one pitch and the North Koreans doing a lap of honour as they were applauded in a stadium in the South felt like some kind of progress.
It would certainly have been impossible last year.
The next tournament is in Wonsan in North Korea next spring. Organisers hope to invite US teams to take part this time.
These may be small gestures of sports diplomacy which appear to have little value when so much is centred on denuclearisation.
But each moment of friendship between these young players helps to remove tension and increase understanding between two generations of people who've been apart for decades.
Source: Read Full Article