Charting China's 'great purge' under Xi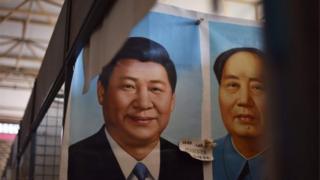 Since becoming China's leader in 2012, Xi Jinping has overseen a vast and ruthless anti-corruption drive in which more than a million officials have been disciplined.
A BBC study has found that more than 170 ministers and deputy minister-level officials have been sacked and many jailed under Mr Xi, accused of charges such as corruption, misconduct and violation of party discipline.
It has been described by some as a massive internal purge of opponents, on a scale not seen since the days of Mao Zedong, in whose Cultural Revolution many top officials were purged.
How extensive is the campaign?
The most noticeable departure from tradition has been the breaking with many unwritten party conventions since Mao's time. The prosecution of so many national-level officials has been notable – in recent decades prominent figures would usually have been quietly retired.
But in the last five years, 35 members (full and alternate) of the Chinese Communist Party's powerful Central Committee have been disciplined. That is as many as in all the years between 1949 and 2012.
Who has been targeted?
Based on official data, a staggering 1.34 million officials at high and low levels – the so-called "tigers and flies" – have been brought down by corruption and disciplinary charges during President Xi's first five years in office.
No walk of life has been spared – those felled range from village chiefs and factory managers to government ministers and generals.
The so-called "great purge" goes right to the very top of government – the biggest scalp so far was once the third most senior leader in China, Zhou Yongkang. He had been in charge of the vast internal security apparatus until he retired.
Sun Zhengcai, who was sacked as Chongqing party secretary, was only the fourth sitting politburo member ever to be expelled from the Communist Party. Promoted before Xi Jinping took office, Mr Sun, 54, was the politburo's youngest member and had been tipped for the very top.
Nearly 70% of the party's ruling Central Committee members will be replaced with new faces at the current congress although in the majority of cases alleged corruption or other transgressions will not be the reason – age will be.
An unwritten party rule currently sets the retirement age at 65 for Central Committee members.
Has the army been spared?
No area has been more radically restructured under President Xi than the military, which he swiftly set about comprehensively reorganising and modernising.
More than 60 generals have been investigated and sacked in the drive to introduce a Western-style joint command and promote young officers to top positions.
Even as the delegates started to gather in Beijing for the current party congress, the pace of the campaign showed no signs of slowing down. Two top generals, Fang Fenghui and Zhang Yang, disappeared from public view as recently as last month, and a series of new high-level investigations have been announced.
What is Xi's goal?
The five-yearly congress in Beijing is expected to see the president remain as party chief and bring in a new leadership team, helping to entrench his already considerable power.
If things go to plan for President Xi, he should be able to get many of his loyalists into key positions. Since he took office a number of his allies have been promoted. Here are some of the biggest gainers.
Who ends up in the party's Politburo Standing Committee, China's top decision-making body which currently has seven seats, will show exactly how powerful he has become. Its members – and those of the 25-seat Politburo – will be revealed on 25 October once the congress ends.
But analysts say Mr Xi, along with anti-corruption chief Wang Qishan, a key ally, has used the clean-up campaign to help shape who China's new leaders will be.
The country's Communist Party has for decades ruled by consensus, but analysts say President Xi is rewriting party rules and concentrating power in his own hands.
Critics accuse him of encouraging a cult of personality. They point to the fact that most of the top officials who have been disciplined have been supporters of his opponents, or former presidents Jiang Zemin or Hu Jintao.
President Xi's supporters say the anti-corruption drive is needed to restore the ruling party's credibility as the president pursues his dream of a more prosperous and powerful China which will soon overtake the US as the world's largest economy.
Research and production by BBC News, BBC Monitoring, BBC Chinese and BBC Visual Journalism.
Source: Read Full Article