Briton killed in attack on G4S compound in Kabul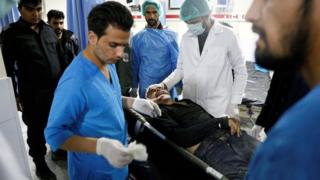 A British national is among five G4S employees killed in an attack on the security firm's base in Kabul.
Gunmen stormed the compound after a car bomb was detonated outside, according to an Afghan interior ministry spokesman.
A sixth person was killed, as well as four attackers, a spokesman for Afghanistan's public health ministry said. Dozens more people were injured.
G4S said the victims' next of kin had been informed.
The Taliban have claimed responsibility for the attack.
G4S, one of the world's largest security groups, helps guard the area around the British embassy in Kabul.
Charlie Burbridge, managing director of G4S Risk Management Group, said the "unprovoked, criminal attack" left 32 of its employees injured, five of them seriously.
"Our thoughts at this difficult time are with the loved ones of those who have died and been injured, and our brave team in Afghanistan who have lost colleagues and friends," he said.
The Foreign Office said it was aware of the incident and was working with the authorities to establish further details.
The attack came hours after President Ashraf Ghani announced plans to form a team to seek a peace deal with the Taliban.
Face-to-face talks would be held with the militant group, but any agreement reached would need the approval of the Afghan people.
Just the previous day, three US service members were killed and three more were wounded in an explosion near Ghazni.
Source: Read Full Article