Pompeo rejects N Korea 'gangster' claim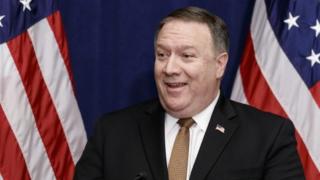 US Secretary of State Mike Pompeo has dismissed accusations by North Korea that he engaged in "gangster-like" behaviour during a visit there.
After two days of talks with senior officials, he said efforts to push Pyongyang towards abandoning nuclear weapons had international backing.
He stressed that denuclearisation was a condition for lifting sanctions.
It was Mr Pompeo's first visit to the North since last month's summit between Kim Jong-un and President Donald Trump.
The North Korean leader says he is committed to denuclearisation, but how this will be achieved is unclear.
How did the North see the latest talks?
Mr Pompeo did not meet Mr Kim. Instead, on Friday and Saturday he held talks with Kim Jong-chol, seen as the North Korean leader's right-hand man, on how to proceed with denuclearisation.
Afterwards, state media carried a statement saying the US had gone against the spirit of the summit by acting unilaterally to put pressure on the country.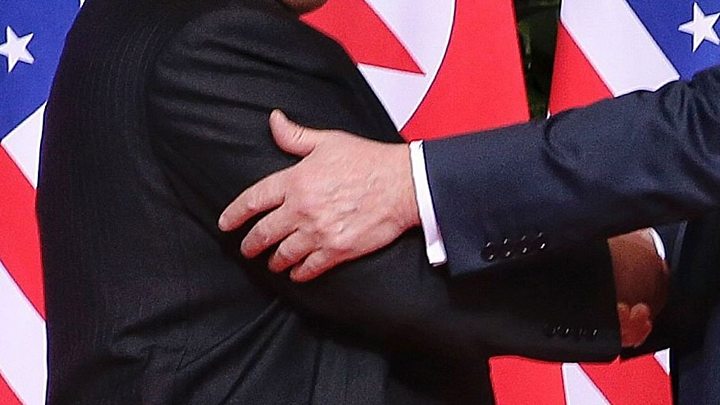 "We had anticipated the US side would come with a constructive idea, thinking we would take something in return," the statement said, warning its "resolve for denuclearisation… may falter".
"The US is fatally mistaken if it went to the extent of regarding that [North Korea] would be compelled to accept, out of its patience, demands reflecting its gangster-like mindset," it added.
The statement, by an unnamed foreign ministry official, was in sharp contrast with the account given by Mr Pompeo as he left North Korea for Japan just hours before.
He said the talks had "made progress on almost all of the central issues".
North Korean state media often carries uncompromising language, and some analysts and officials speculated the use of the term may be a negotiating tactic.
How has Mr Pompeo responded?
After talks with the foreign ministers of Japan and South Korea on Sunday, the secretary of state said his efforts to press the North on nuclear weapons were legitimate.
"If those requests were gangster-like, the world is a gangster, because there was a unanimous decision at the UN Security Council about what needs to be achieved," he told reporters in Tokyo.
He added: "When we spoke to them about denuclearisation, they did not push back." He also admitted that the "road ahead will be difficult and challenging".
After the Singapore summit in June, which also saw the US promise to end military drills with South Korea, Mr Trump claimed that the North no longer posed a nuclear threat.
However, the president has since renewed sanctions on North Korea, while US intelligence officials have said there is evidence North Korea continues to upgrade the infrastructure for its nuclear and missile programmes.
Source: Read Full Article