Pittsburgh synagogue shooting: Oldest victim was 97
Two brothers and a married couple were also among the dead.
The 11 victims have been identified and named by the city's chief medical officer, and their families have been informed.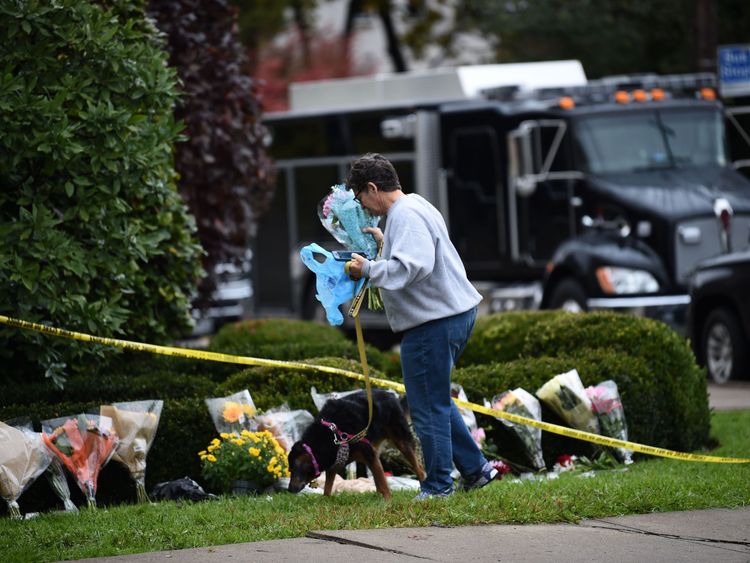 The victims have been named as: Joyce Fienberg, 75; Richard Gottfried, 65; Rose Mallinger, 97; Jerry Rabinowitz, 66; Cecil Rosenthal, 59; David Rosenthal, 54; Bernice Simon, 84; Sylvan Simon, 86; Daniel Stein, 71; Melvin Wax, 88; Irving Younger, 69.
Cecil and David Rosenthal were brothers and Bernice and Sylvan were married.
Mr Wax was described as a "pillar of the congregation" by fellow members, while his friend Myron Snider called him "unfailingly generous".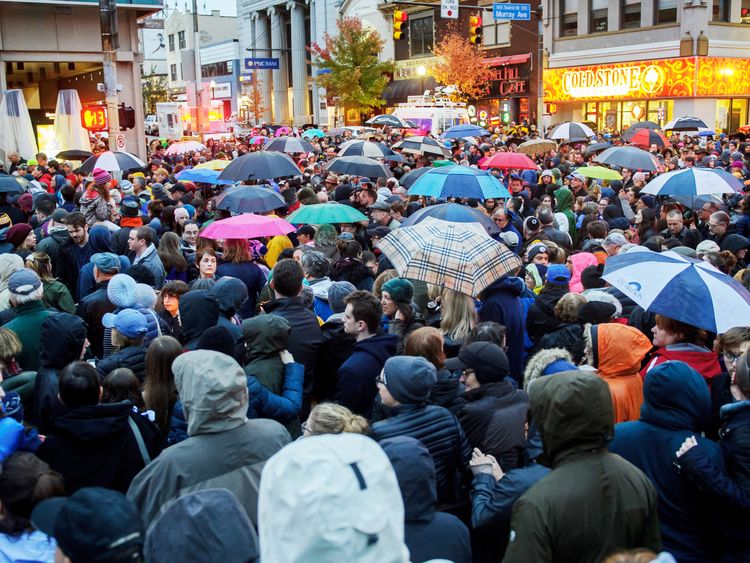 Four police officers were treated for injuries after going into the synagogue to confront the gunman. One has been discharged, one is due to be, and the other two "need more doing to them", Pennsylvania police confirmed.
Robert Bowers, the suspect, is being treated in hospital for gunshot wounds. He has been charged with 29 counts, including 11 of murdering people exercising their religious beliefs, which carry the death penalty if he is found guilty.
According to officials, Bowers expressed hatred of Jews during the rampage, and told officers after he was caught that they were committing genocide and he wanted them all to die.
Bowers was charged with 11 counts of criminal homicide, six counts of aggravated assault and 13 counts of ethnic intimidation.
He is said to have been carrying an AR-15 rifle and three Glock 357 handguns when he stormed into the place of worship and opened fire during a baby naming ceremony.
Calls began coming into police at 10am on Saturday, when people inside the synagogue reported "they were being attacked".
Bowers, 46, shot one of the first two officers to respond in the hand, and the other was wounded by "shrapnel and broken glass".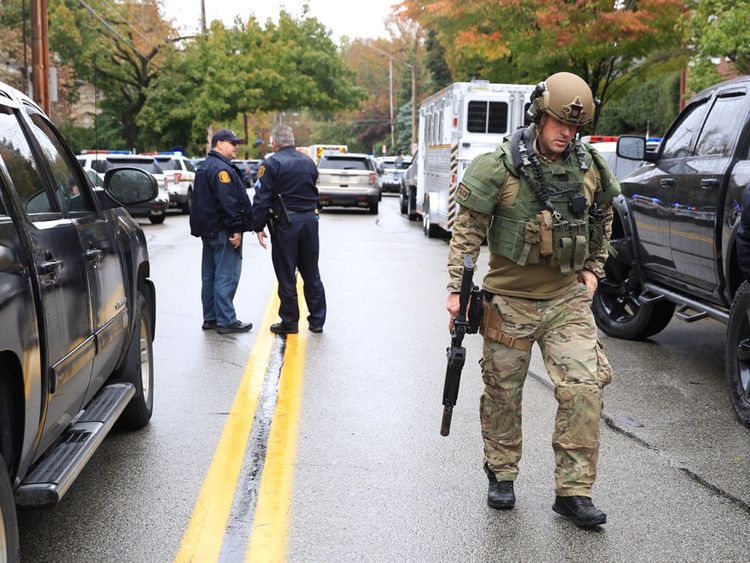 The affidavit said a tactical team found Bowers on the third floor of the synagogue, where he shot two other officers. One of those is critically wounded, but the condition of the fourth is not known.
Mayor Bill Peduto called the attack "the darkest day in Pittsburgh's history".
He added: "I think the approach that we need to be looking at is how we take the guns, which is the common denominator of every mass shooting in America, out of the hands of those that are looking to express hatred through murder."
Bowers will make his first appearance before a magistrate on Monday.
Scott Brady, from the FBI, said they would do everything to ensure Bowers was held accountable for his actions.
FBI teams from three branches are in Pittsburgh and officials believe it could take a week to gather evidence from the scene.
Robert Jones, special agent for FBI Pittsburgh division, said there could have been further violence if Bowers had made it out of the synagogue.
Donald Trump said the outcome of the attack may have been different if the synagogue "had some kind of protection". He ordered flags at federal buildings to be flown at half-mast for the victims.
The state's Democrat governor, Tom Wolf, who is up for re-election, said "dangerous weapons are putting our citizens in harm's way".
Pope Francis led prayers for the city on Sunday, calling the attack an "inhuman act of violence" and praying for God to "help us to extinguish the flames of hatred that develop in our societies".
Source: Read Full Article