Florida senate race recount triggered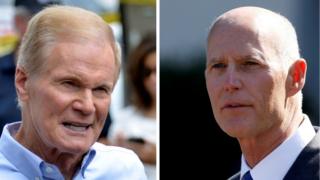 Two days after the US mid-term elections, Florida's senate race remains unresolved, along with several others across the country.
Though outgoing Governor Rick Scott claimed victory over incumbent Democrat Bill Nelson on Tuesday, a statewide vote recount has now been triggered.
The margin between the two has narrowed to within 0.5% of each other.
Florida's gubernatorial race between Democrat Andrew Gillum and Republican Ron DeSantis could also face a recount.
On Tuesday night, Mr Scott announced his victory – and was even congratulated via phone by President Donald Trump – but Mr Nelson did not make a concession speech at the time.
The next morning, Mr Nelson, who has served 18 years as senator, said in a statement: "We are proceeding to a recount."
The Scott camp responded by calling the Democrat's reticence to concede "a sad way for Bill Nelson to end his career", NBC News reported.
But now that the margin between them has narrowed to nearly 22,000 votes as of Thursday, Florida State Law mandates a statewide recount.
The Florida senate campaigns were one of the most expensive this election season, with over $96m (£73m) spent in total.
Reaction over the senate race has drawn immediate comparisons to Florida's 2000 presidential election recount dispute that allowed Republican George W Bush to win the presidency.
The governor's race may also face a recount. On Thursday morning, Mr Gillum's team walked back his earlier concession to Republican Mr DeSantis.
"It has become clear there are many more uncounted ballots than was originally reported," his campaign said in a statement, noting they are ready for a state-mandated recount.
Mr Gillum trails Mr DeSantis now by less than 38,000 votes, which is in recount range if the margin holds.
Meanwhile in Georgia, Republican Brian Kemp has resigned as secretary of state after claiming victory in the gubernatorial election.
But 22,000 votes still need counting in the tight race between Mr Kemp and Democrat Stacey Abrams – who has not yet conceded.
Mr Kemp has faced criticism for having remained Georgia's top electoral official in his role as secretary despite being a candidate in a contentious race.
Though he has now resigned, Mr Kemp told reporters on Thursday that it was so he could focus on the transition process.
Mr Kemp currently leads at 50.3% to Abrams' 48.7%, according to AP data, but it could take until next week to tally all the votes.
If Ms Abrams tightens the margin and neither candidate gets 50% of the vote, Georgia law will require a runoff election in December.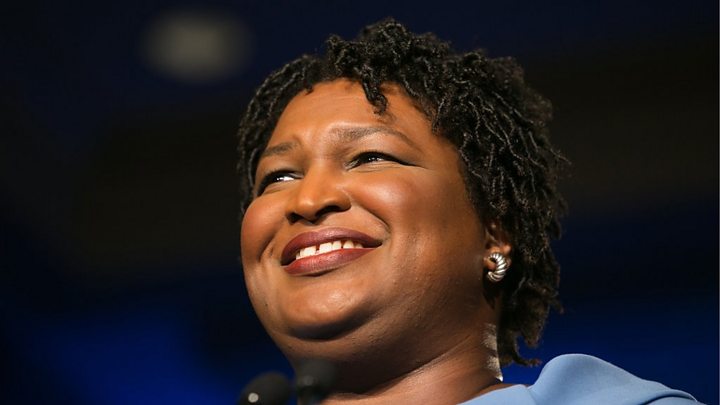 That is now the fate of Mississippi's senate race, which will be decided on 27 November, as neither incumbent Republican Cindy Hyde-Smith nor Democrat Mike Espy received over 50% of the vote.
In Arizona, another tight senate race has yet to conclude – and the state's Republican party is now suing over how some counties handle mail-in ballots, US media report.
Republican Martha McSally leads Democrat Kyrsten Sinema by around 17,000 votes, but there are still over 600,000 mail-in votes to count in a process that could take days.
The lawsuit claims 15 Arizona counties do not have uniform standards for dealing with mailed ballots. The issue had been raised by Republicans ahead of the mid-terms.
Democrats have called the lawsuit an attempt at voter suppression as the counties have used the same standards for years without problems.
Source: Read Full Article