Canada in talks over Asia Bibi asylum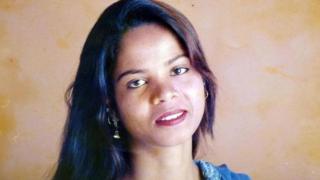 Canada is in discussions with Pakistan about granting asylum to a Pakistani Christian woman recently acquitted of blasphemy, according to Canadian Prime Minister Justin Trudeau.
Asia Bibi spent eight years on death row before a Pakistani court overturned her sentence and she was freed.
Her release sparked violent protests from Islamists in the country.
Mr Trudeau confirmed to the AFP news agency that his government was looking into bringing her to Canada.
"There is a delicate domestic context that we respect which is why I don't want to say any more about that, but I will remind people Canada is a welcoming country," he told AFP in an interview on Monday while in Paris for a conference.
Asia Bibi's husband has said the family is in danger and has pleaded for asylum from the UK, US or Canada. Her lawyer, Saiful Malook, has been granted temporary asylum in the Netherlands after facing death threats.
Pakistan has agreed to try to stop her leaving the country to help calm the unrest in the wake of the Supreme Court ruling that saw her released over "flimsy" evidence.
Several countries are understood to have offered her asylum.
The Trudeau government has the support of Canada's opposition Conservative Party on the Asia Bibi case. They have urged Mr Trudeau to "use every mechanism at his disposal to offer the Bibi family asylum".
Asia Bibi, sometimes known as Asia Noreen, was convicted in 2010 of insulting the Prophet Muhammad during a row with neighbours the previous year.
The mother-of-five was the first female non-Muslim charged under the country's blasphemy laws. The laws carry a potential death sentence for anyone who insults Islam.
The case has been a polarising one in the Muslim-majority country.
In 2011, a Punjab Governor Salman Taseer assassinated in Islamabad, reportedly in part due to his defence of Asia Bibi.
Not long after, Pakistan's minister for minority affairs, Shahbaz Bhatti, was shot dead for making similar remarks.
Source: Read Full Article