The city banking on more guns to make it safer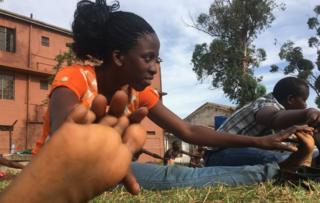 Uganda's government is a creating a new security force to combat soaring levels of crime, but critics fear it could become a law unto itself, writes the BBC's Patience Atuhaire from the capital Kampala.
Zarake Maria Goretti sits on the grass after giving her blood samples for her medical check-up.
The 22-year-old is one of thousands who turned up at an open-air ground, usually used for trade fairs in Kampala, to apply to join the new civilian militia, known as Local Defence Units (LDUs).
About 6,000 LDUs are currently being trained to help the security forces curb crime following a wave of high-profile murders.
Critics have memories of the last time a civilian militia existed. Some of its members were accused of abusing their positions, and becoming criminals themselves.
'Protecting families'
But Ms Goretti is anxious to pass her medical tests, and join the militia. Although she has qualifications in hotel management, she wants to get on the government payroll.
"I would have a more secure job there," Ms Goretti told the BBC.
Thirty-year-old Abue George William, on the other hand, said he had always aspired to protect the nation.
"I will make sure that every family is safe, there are no thieves in the neighbourhood, and everyone is free to move – even at 1am," he said.
LDUs are expected to patrol neighbourhoods, pass on intelligence to police, and give them back-up when they are dealing with incidents of crime.
Recruits are being promised a monthly salary of 200,000 Uganda shillings ($50; £40).
There is an enormous queue – typical of any recruitment drive in a country where there is a shortage of jobs.
'Museveni's reputation on the line'
Soldiers are spearheading the recruitment process, weeding out those who do not have the right paperwork.
The hopefuls are put through a physical test, including a run of 4km (2.5 miles).
Security Minister Elly Tumwiine told the BBC the LDUs would "be accountable to the army and work alongside the police".
"It is a joint operation," he added.
Recruits will undergo four months of training, and will be deployed, with weapons, in Kampala and nearby areas.
This follows a directive in September from President Yoweri Museveni to make urban areas safer.
Support for the president during his three-decade rule is partly based on his reputation as a guarantor of security, ending the political turbulence and instability that stretched from the late 1960s to when he came to power in 1986.
But since 2014, Kampala has witnessed a worrying level of insecurity.
Spate of killings
At least five Muslim leaders were mysteriously gunned down between December 2014 and October 2017 in Kampala and surrounding areas.
Other unresolved high-profile murders include those of:
In 2017, there was also an upsurge in the kidnapping and murder of women. About 20 women were killed in a space of four months in and around Kampala, causing fear and shock.
Machete-wielding gangs also wreaked havoc in some city neighbourhoods.
A former security chief, who asked to remain anonymous, put the insecurity down to the economic downturn.
"Young people are educated but have no jobs. Some have had to turn radical for their own survival.
"Criminal gangs like Kifeesi who operate in the city are a result of this alienation," he said.
Kifeesi is said to have its headquarters in the Katwe slum of Kampala, and its members are notorious for breaking into people's cars when they are stuck in traffic jams and hitting them with iron bars before robbing them.
The president has expressed concern about the failure to hunt down criminals.
"It is clear that the intelligence has been weak in the cases where the murders have been committed, like in the cases of [the prosecutor] Kagezi and the others. This weak area is being strengthened," Mr Museveni said as he announced the creation of the LDUs.
The police force is about 45,000-strong, but, the security minister says, it is overstretched.
And the military is not in a position to help because it is involved in peacekeeping missions in countries like Somalia, the army's Col Bonny Bamwiseki told the BBC at a recruitment centre.
"We can't be deployed to secure urban neighbourhoods.
"These young people will secure their villages because they know them best," he added.
More from Patience Atuhaire
Gen Tumwiine said the LDUs would play an intelligence role and reinforce police efforts to tackle crime.
"We haven't developed technological means and we believe that the human eye is the most reliable as of now.
"It worked for us in the past and we believe in it," he said.
'Guns for hire'
Some human rights activists have reservations about their formation, saying the government had formed LDUs more than 10 years ago, but they became discredited.
Its members became notorious for hiring out their guns to criminals, or turning themselves into gunmen for hire, as the state-owned New Vision newspaper frequently reported at the time.
"They were not well motivated, not well screened and they became part of the problem rather than the solution," said the executive director of the Foundation for Human Rights Initiative, Livingstone Sewanyana.
"I see it as a misguided approach to the whole question of law enforcement. There is no legal framework for the LDUs," he added.
The former security chief, who spoke on condition of anonymity, expressed similar reservations.
"We have local councils and leaders at the village level, parish intelligence officers, district intelligence officers. This structure runs all the way to regional level. What happened to this very elaborate internal security organisation structure?"
"How come men on motorbikes can commit crimes so close to the centre of power and get away with it? Where do they melt to? It would mean the public has lost trust in the system and they do not share useful information."
But Gen Tumwiine is confident the decision to form the LDUs will pay off.
"We know Uganda's security better than anybody so leave it to us," he said.
Related Topics
Source: Read Full Article