NewsNation plans multimillion-dollar expansion in D.C. and NYC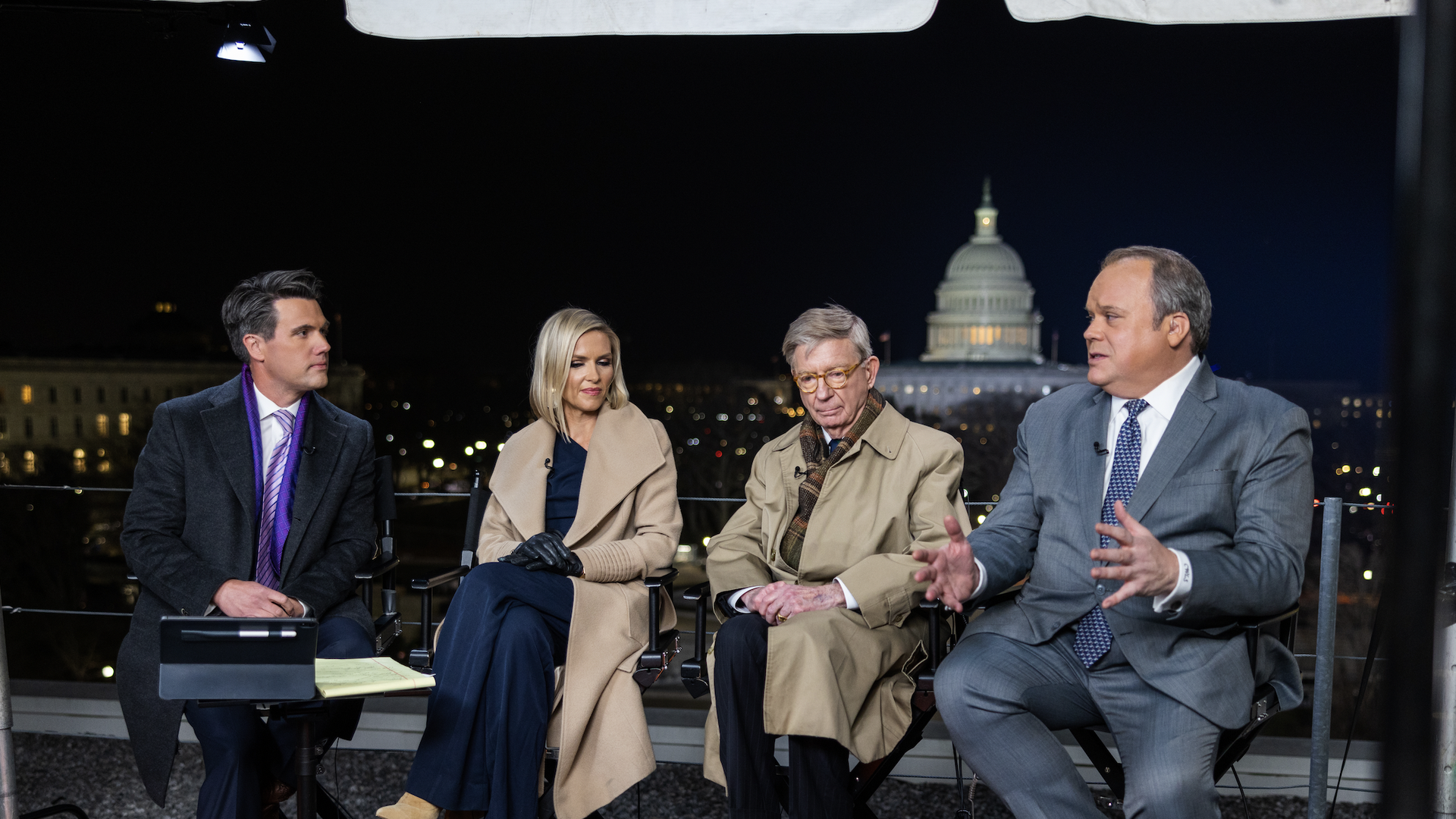 NewsNation coverage of the 2023 State of the Union. From left to right: anchor Leland Vittert, contributors Johanna Maska and George Will, and politics editor Chris Stirewalt. Photo: NewsNation
NewsNation will debut a new daytime block of news programming next Monday that will bring the network to 24 hours of news, five days a week, president of news Michael Corn told Axios. The expansion includes a multimillion-dollar investment in studios and talent in Washington, D.C., and New York City.
Why it matters: The network, which is owned by TV giant Nexstar, is trying to build a 24-hour cable news network that doesn't have a political bent at a time when polarization in America has never been higher.
"When I look at cable news right now, the thing you see more than anything else underneath it all is contempt," Corn said. "And so for me, the whitespace is respect."
While the network has hired a few former Fox News executives and producers, Corn pushed back on any allegations of being right-leaning. "I don't like to identify us as right, left or center. I think that what we are is fair and honest, and fact-based."
Driving the news: Beginning next Monday, NewsNation will launch a daytime block of news that will get the network to 24 hours of news coverage, five days per week.
At 1pm, the company will launch a two-hour news show called "NewsNation Now," led by a rotating cast of talent. After, from 3pm to 5pm, Nichole Berlie will anchor a new show from NewsNation's headquarters.
On Monday, NewsNation will also launch a show in Washington, D.C., called "The Hill," named after its sister company, that will be hosted by NewsNation anchor Leland Vittert and include a panel of contributors and correspondents.
The show, airing at 5pm ET, will take advantage of The Hill's political focus. Nexstar Media Group bought the Beltway paper and website for $130 million in 2021.
Vittert's 7pm show "On Balance" debuted Monday for the first time in Washington, D.C. Vittert was previously based in Chicago, where NewsNation is headquartered.
Former ABC News host Elizabeth Vargas launched a new show in the 6pm hour based out of New York City earlier this month.
Former CNN anchor Chris Cuomo will continue to anchor his prime-time show at 8pm ET out of New York City.
Yes, but: Competing for ratings in such a polarized environment can be tough. While the network has significantly improved its viewership among the coveted 24-49 advertising demographic, its overall ratings still lag significantly behind the major cable news networks, such as Fox, MSNBC and CNN.
Last year, NewsNation was the 107th most-watched TV network, attracting on average around 63,000 viewers per night in prime time.
By comparison, Fox News and MSNBC ranked fifth and eighth overall with 2.3 million and 1.2 million viewers on average per night in prime time, respectively. CNN ranked 21st with 735,000 viewers on average in prime time.
Corn said he's "not even a little bit" concerned about ratings. "The trajectory is really, really excellent right now," he said, noting improvements since he joined NewsNation from ABC News nearly two years ago.
Between the lines: Despite the ratings battle, the network has been profitable since it launched in 2020, a spokesperson confirmed to Axios. NewsNation is currently hiring for well over 100 positions nationwide.
Some of the money it was using to pay to distribute the entertainment content that's now being replaced by news will go toward expanding NewsNation's coastal expansion.
The big picture: Corn has been able to lure several high-level names from his former stomping grounds at ABC News.
Chris Cuomo, who came to NewsNation after he was fired from CNN in late 2021, was formerly an anchor at ABC News, as was Vargas.
Corn left the network as senior executive producer of "Good Morning America" in 2021, shortly before a sexual assault lawsuit was brought up against him. The lawsuit was eventually dismissed.
What to watch: The next long-term focus for Corn will be building the network's digital presence. While NewsNation's cable feed does get distributed by some digital cable packages, like YouTube TV and SlingTV, it doesn't have its own stand-alone streaming service and it doesn't plan to build one.
The network plans to lean into its relationship with The Hill, which has a significant digital presence, even more moving forward.
Source: Read Full Article