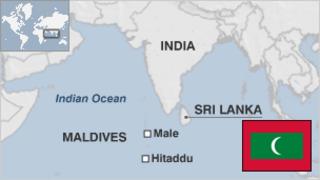 The Maldives is a republic lies south-west of the Indian sub-continent. It is made up of a chain of nearly 1,200 islands, most of them uninhabited.
None of the coral islands stand more than 1.8 metres (six feet) above sea level, making the country vulnerable to any rise in sea levels associated with global warming.
The economy revolves around tourism, and scores of islands have been developed for the top end of the tourist market.
Its political history has been unsettled since the electoral defeat of long-serving President Maumoon Abdul Gayoom in 2008.
FACTS
Republic of Maldives
Capital: Male
Population 324,000
Area 298 sq km (115 sq miles)
Major language Divehi
Major religion Islam
Life expectancy 76 years (men), 79 years (women)
Currency rufiyaa
LEADER
President: Abdulla Yameen
Abdulla Yameen acknowledged his defeat in the September 2018 presidential election, which was won by opposition leader Ibrahim Mohamed Solih in a surprise result.
Mr Solih should take office in November.Mr Yameen had won a presidential election run-off in November 2013, narrowly defeating the favourite Mohamed Nasheed in a ballot which voters hoped would end nearly two years of sometimes violent political turmoil.
Mr Nasheed, the Maldives' first democratically-elected president in 2008, resigned in 2012 after weeks of opposition protests which he described as a coup.
Political turmoil flared again early in 2018, when Mr Yameen refused to obey a court order to release nine political prisoners. The main opposition said the refusal amounted to a coup. The president declared a state of emergency.
Mr Yameen is a half-brother of Maumoon Abdul Gayoom, whose autocratic rule lasted 30 years until 2008. Mr Yameen himself took steps to restrict opposition protests against his government, and caused concern among neighbouring states over his close economic ties with China.
MEDIA
Non-state media report coming under pressure, and Reporters Without Borders says journalists operate in a climate of violence and impunity.
A 2016 law criminalised defamation, allowing the authorities to punish media for content deemed defamatory.
TIMELINE
12th century – Islam introduced.
1558-1573 – Portuguese occupation, which ends after expulsion by locals.
17th century – Islands become a protectorate first of the Dutch rulers of Ceylon (Sri Lanka) and later of the British, who take control of Ceylon in 1796.
1887 – Status formalised as internally self-governing British protectorate.
1965 – Full independence as a sultanate outside Commonwealth.
1968 – Sultan deposed after referendum, Ibrahim Nasir becomes president.
1978 – Nasir retires, replaced by Maumoon Abdul Gayoom.
1980s – Development of tourist industry fuels economic growth.
2008 – Opposition leader Mohamed Nasheed defeats President Gayoom in elections.
2012 –President Mohamed Nasheed is ousted in a coup.
2018 – Opposition leader Ibrahim Mohamed Solih defeats President Abdulla Yameen in a surprise result.
Source: Read Full Article