What will become of France's 'IS children'?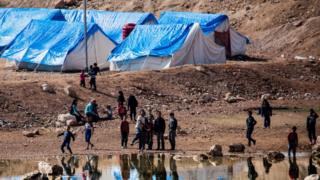 The grandparents of French children of Islamic State group (IS) fighters are lobbying for their return from Syria and Iraq. But why, they ask, is the government moving so slowly?
France has more nationals in the region than any other Western country. As of November 2017, an estimated 700 French nationals were still fighting with IS in Iraq and Syria.
Nearly 2,000 French citizens are believed to have travelled to join the group during the conflict.
In addition, there are more than 500 children under 18 in the region, dozens of whom are in refugee camps in northern Syria run by France's Kurdish allies.
A few years ago, Chantal, not her real name, received a phone call from her daughter Melanie, saying she was in Syria with her Muslim husband and two children, aged five and under. The decision to go there was apparently made on religious grounds.
"I said, 'What are you doing in Syria?' I can't believe it. No-one takes their children to a war zone!"
As the war raged on and coalition forces closed in on IS territory, the young family, now with three very young children, began to fear for their lives.
"My son-in-law contacted me to say it was too dangerous, and the children needed to come back," said Chantal.
"I advised them to hand themselves in to the Kurds; the French foreign ministry said that was the best option. But that was a year ago… I am waiting to get them back. But I don't know if I will."
Chantal is part of a group of families now lobbying the French government to bring their children and grandchildren back.
Earlier this year, French Foreign Minister Jean-Yves Le Drian said that while adult French fighters would be tried wherever they were arrested, children were a different matter.
"We want to make sure we can repatriate them to France, with the help of the Red Cross," he explained.
So far, 77 French children, most of them under eight, have arrived back from Iraq and Syria.
Each child is closely monitored by psychiatrists, social workers and security personnel. Guidelines issued by the prime minister suggest some form of monitoring will continue indefinitely.
Muriel Domenach, who runs the French government's de-radicalisation programme for the returning children, says that French authorities found themselves asking: "Are they victims or are they dangerous?"
"They're victims, of their parents' choice to start with, but they might be dangerous. We don't know what they experienced on the ground. Probably they witnessed horrific events."
She admits some of them may have taken part in horrific events themselves, and are being investigated.
Bringing back the children of IS supporters is a sensitive issue in France. The Paris prosecutor has described them as "time bombs" because of the danger he believed they posed.
Since the fall of the IS stronghold in Raqqa in October 2017, the number of children returning to France has slowed to a trickle.
An estimated 40-50 French mothers and children are now living in the Kurdish-run camps. Their relatives argue these citizens, at least, should be easy to bring back.
The Kurdish authorities are keen to send them home, and US officials have called on allied governments to prosecute their adult citizens at home, saying it is "not a [Kurdish] job".
France says it respects the right of the local authorities to try adults arrested in Iraq and Syria, and is treating each family on a case-by-case basis.
But Nadim Houry, from Human Rights Watch, says that when it comes to the Kurdish-run areas of northern Syria there's a problem.
French policy, he explains, is that adults should be prosecuted there, but the French authorities don't say what happens if the Kurdish authority does not want to prosecute or doesn't have the laws to do so.
"If I want to be charitable to the French policy, I would say it's confused, because politically they do not want to make a decision on the issue."
Not all French citizens in the camps want to go home. And French officials point out they have no consular presence in Kurdish areas. But Nadim Houry, who has visited the camps, says both US and European interrogators are already working there.
We asked the foreign ministry several times to answer our questions, but they declined.
Conditions in the camps are basic: there are reports of tuberculosis, and concerns over sexual abuse. Chantal says that Melanie and her children are still living in a camp and that her grandson has daily asthma attacks.
A doctor has told the family that he needs to come back to France for treatment, she says, but no one can get them out.
"They are going to let them die there because public opinion doesn't want them back. But my grandchildren aren't time bombs."
The return of citizens France sees as "enemies" is a sensitive issue in a country that has suffered so many jihadist attacks.
Source: Read Full Article