Man held over sexual assaults on 300 boys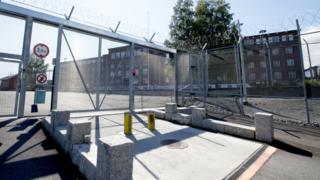 A 26-year-old man has been charged in a case described by police as Norway's biggest ever sexual abuse case.
The man, reportedly a football referee, has been under investigation for several years and now faces charges involving more than 300 teenage boys.
The victims were mainly targeted over the internet in Norway, Sweden and Denmark, according to prosecutors.
But several of the boys are thought to have met the man in person.
According to Norwegian reports, the man pretended to be a girl named Sandra or Henriette on chat forums in order to win the boys' trust, persuading them to send him naked pictures and videos of themselves.
A local newspaper said he would tempt them with offers of money, naked pictures purportedly of Sandra or tobacco snuff, and once they had sent material he would allegedly threaten them with blackmail if they failed to send more.
Norwegian public broadcaster NRK said he had received more than 16,000 videos.
The rape charges are believed to be related to an alleged threat to post photos and videos online, although several charges involve physical abuse of victims the man met in person.
State prosecutor Guro Hansson Bull said it was "the biggest case of sexual abuse in Norway so far". The alleged victims varied in age from 9 to 21 and all but one had felt unable to reveal what had happened to their parents, police told Norwegian media.
A lawyer acting for the alleged victims said virtually all of them were struggling to deal with the case because they had a strong sense of guilt.
A team of 15 investigators worked on the case, sifting through photos, video and chat files.
The suspect was initially arrested in 2016 but then released, before being detained a second time. He is now reportedly being held in Ila jail near Oslo.
His lawyer, Gunhild Laerum, told Norwegian media that he had co-operated with police from the start and had been receiving therapy, although he was yet to respond to each individual charge.
She said her client had led a double life, with an addiction to an illegal existence online.
The case will go to court in 2019.
Source: Read Full Article