Coronavirus: Full list of countries exempt from COVID-19 travel quarantine revealed
A full list of the countries exempt from England's coronavirus travel quarantine has been released by the government.
A list of more than 70 countries and territories where English holidaymakers can visit without self-isolating on their return has been published by the UK government.
Fourteen British Overseas Territories are also included, with Ireland, the Channel Islands and the Isle of Man already exempt.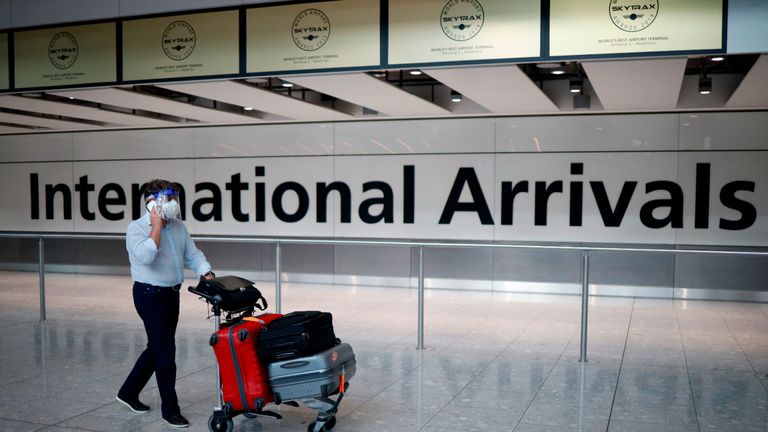 Among the countries not on the list are the United States, Portugal, Sweden, Mexico, Brazil, Russia, Iran, India, Pakistan, Bangladesh, China and Taiwan.
The exemptions will apply from 10 July.
The Department for Transport said the approved destinations pose "a reduced risk to the public health of UK citizens", but the list will be kept "under constant review".
It has indicated that reciprocal arrangements between England and overseas nations have not been confirmed.
It is Downing Street's "expectation" that a number of exempted countries will also not require arrivals from the UK to self-isolate.
Officials "continue to work closely with international partners around the world to discuss arrangements for travellers arriving from the UK," the government has said.
Scotland, Wales and Northern Ireland will "set out their own approach" to exemptions, the Department for Transport has said.
The first ministers of Wales and Scotland have criticised the UK government's "shambolic" handling of its coronavirus travel quarantine.
The full list is as follows:
Andorra
Antigua and Bermuda
Aruba
Australia
Austria
Bahamas
Barbados
Belgium
Bonaire, Sint Eustatius and Saba
Croatia
Curaçao
Cyprus
Czech Republic
Denmark
Dominica
Faroe Islands
Fiji
Finland
France
French Polynesia
Germany
Greece
Greenland
Grenada
Guadeloupe
Hong Kong
Hungary
Iceland
Italy
Jamaica
Japan
Liechtenstein
Lithuania
Luxembourg
Macau
Malta
Mauritius
Monaco
Netherlands
New Caledonia
New Zealand
Norway
Poland
Reunion
San Marino
Serbia
Seychelles
South Korea
Spain
St Barthelemy
St Kitts and Nevis
St Lucia
St Pierre and Miquelon
Switzerland
Taiwan
Trinidad and Tobago
Turkey
Vatican City
Vietnam
The Foreign Office has also revealed which countries will be exempt from its advice against all but "non-essential travel".
This will mean that people can travel to a number of destinations overseas with regular travel insurance policies.
Source: Read Full Article