World's tallest statue angers Indian farmers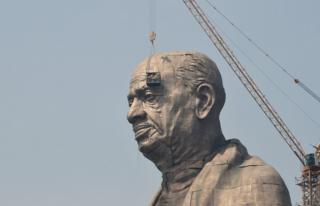 On 31 October India will unveil the world's tallest statue, which has cost hundreds of millions of dollars. BBC Gujarati's Roxy Gagdekar spoke to local farmers who say they are aghast that the government has spent so much money on it while they struggle to make ends meet.
For years Vijendra Tadvi, a 39-year-old farmer in the western state of Gujarat, has been struggling to find water to irrigate his three acres (1.2 hectares) of farmland.
He grows chilli, corn and groundnuts. Like millions of farmers across India, he relies on monsoon rains to water his crops. or he pumps out groundwater, which supports 80% of the rural water supply and farm irrigation. But long dry summers followed by erratic rains have led to frequent drought and shrunk the incomes of farmers like Mr Tadvi.
So in 2015, Mr Tadvi found a job as a driver on a construction site to supplement his income. The Gujarat state government was building a 182m (600ft) high statue, billed as the tallest in the world.
The bronze-clad tribute to Indian independence leader Sardar Vallabhbhai Patel cost 29.9bn rupees (£330m; $430m). And Gujarat's government is reported to have paid more than half of that amount. The remainder came from the federal government or public donations.
"Instead of spending money on a giant statue, the government should have used it for farmers in the district," Mr Tadvi said, adding that farmers in the area still lack basic irrigation facilities.
The statue is complete and Mr Tadvi has found more work as a driver on construction sites. But he is still unimpressed by the government's largesse.
The "statue of unity", as it is known, is the centrepiece of a sprawling memorial to Patel. A formidable nationalist leader, he was born in Gujarat and went on to become independent India's first interior minister and deputy prime minister under Jawaharlal Nehru.
Prime Minister Narendra Modi, who is also from Gujarat, commissioned the statue when he was the state's chief minister in 2010. In recent years, Mr Modi's ruling Hindu nationalist Bharatiya Janata Party (BJP) has embraced Patel in an attempt to claim his legacy – and they have accused the opposition Congress party of sidelining him to benefit Nehru's descendants, three of whom have served as prime ministers.
Congress ruled India for 49 of its 71 years as an independent nation.
The plan for Patel's memorial includes a three-star hotel, a museum and a research centre that will focus on subjects "close to his heart" – such as "good governance" and "agriculture development".
All of this is about 10km (6.2 miles) from Mr Tadvi's village, Nana Pipaliya, in the largely poor, rural and tribal Narmada district. Many of its households continue to live in hunger, primary school enrolment has been falling and malnourishment persists, according to a report published in 2016 by the state government.
But the government believes the memorial will boost the district's economy, as they expect about 2.5 million annual visitors. "It will lead to employment opportunities for locals and will also increase tourism in the area," said Sandeep Kumar, a senior official involved with the project.
Locals are sceptical. "We want to ask the government: why can't they fund a project to support farmers and improve their standard of life?" said Lakhan, a tribal activist who only goes by his first name. "We were promised water for irrigation but the situation remains the same."
Nana Pipaliya is in what is known as a "command area" of a nearby dam – lands that are supposed to receive water from a designated irrigation project. But, Mr Tadvi said, he and other farmers were still deprived of water.
"I grow only one crop per year, while people with irrigation facilities grow up to three crops annually," said Bhola Tadvi, a farmer who relies solely on rainwater for irrigation.
According to the 2011 census, some 85% of the district's working population is engaged in agriculture, a sector which is dominated by small farmers who own two to four acres of land.
District officials told BBC Gujarati that the government was committed to ensuring that water was made available to them. Lakhan said thousands of farmers were struggling to access water for irrigation.
Half of India's population works on farms, but farming contributes only 15% to the country's GDP.
In fact, agriculture growth in India has dwindled to 1.2%. Farms employ a lot of people but produce too little, and tens of thousands of farmers struggle to repay crop loans taken from banks and money lenders.
Earlier this year, farmers in the neighbouring state of Maharashtra staged a massive protest demanding a waiver on the repayment of loans and better prices for their crops.
In 2017, farmers from drought-affected districts in the southern state of Tamil Nadu brandished human skulls and a held live mice between their teeth to draw attention to their plight.
Here in the shadow of Patel's statue, farmers have resorted to stealing water. They say they can see the water passing by their farms through a canal that transports it from the dam, but it's illegal to divert the water so they are forced to steal it.
One of the farmers said he had laid a pipe underground from the canal to his farm, adding that nearly all farmers in the area did this to survive.
"We don't have any option but to take the water illegally as there are no sources of water left for us."
Source: Read Full Article