Malibu homes destroyed by wild fire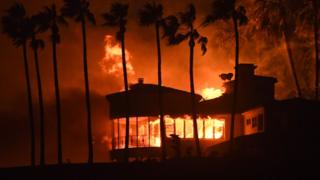 A raging wildfire in southern California has swept into the beach resort of Malibu – home to many Hollywood stars – leaving buildings burning and sending residents fleeing.
Further north, another huge wild fire destroyed the town of Paradise, leaving nine people dead and 35 missing.
In all, three major fires are burning across the state.
Among the towns under evacuation orders is Thousand Oaks, where a gunman killed 12 people in a rampage on Wednesday.
Authorities say the Camp Fire in the north and the Woolsey Fire and Hill Fire in the south are being fanned by strong winds.
More than 250,000 people have been evacuated across the areas.
"The magnitude of the destruction of the fire is unbelievable and heartbreaking," said Mark Ghilarducci, of the California governor's office.
Where is the Woolsey Fire?
The blaze started on Thursday near Thousand Oaks, about 40 miles (64km) north-west of central Los Angeles. Another blaze, the Hill Fire, started at about the same time, also near Thousand Oaks.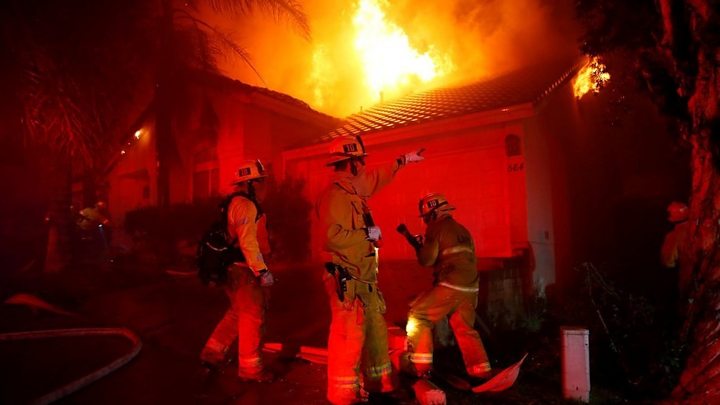 On Friday, the flames jumped Highway 101 and headed into coastal areas. The fire now covers an area of about 35,000 acres (14,150 hectares).
"Fire is now burning out of control and heading into populated areas of Malibu," town officials said in a statement.
"All residents must evacuate immediately."
Malibu and nearby Calabasas are home to many celebrities and some have been posting on social media.
On Instagram, reality TV star Kim Kardashian urged people to "pray for Calabasas".
"Just landed back home and had one hour to pack up and evacuate our home. I pray everyone is safe," she wrote.
Her husband, the rapper Kanye West, said their family was "safe".
Thank you for everyone's prayers. Our family is safe and close
End of Twitter post by @kanyewest
The singer Cher, who is performing in Las Vegas, tweeted that she was worried about her Malibu home.
I'm worried about my house?, but there is nothing I can do.
Friends houses have burned??
I can't bear the thought of there being no Malibu I've had a house in Malibu since 1972?
End of Twitter post by @cher
The singer Lady Gaga said she had evacuated her home in Malibu, posting a video on Instagram that showed dark smoke billowing overhead.
Oscar-winning director Guillermo del Toro tweeted that he had evacuated, leaving behind his "Bleak House" museum collection of fantasy and horror memorabilia.
Evacuated last night. Bleak House and the collection may be endangered but the gift of life remains. Thousand Oaks and Agoura are still in danger. Malibu is being evacuated.
End of Twitter post by @RealGDT
The fire has also reportedly destroyed one of the sets for the TV series Westworld.
Where is the Camp Fire?
The 20,000-acre (8,100-hectare) fire north of Sacramento started in the Plumas National Forest on Thursday and quickly engulfed the town of Paradise. More than 6,700 homes and businesses were destroyed and residents fled for their lives. The flames moved so fast that some had to abandon their cars and escape the town on foot.
Butte County Sheriff Kory Honea told a news conference on Friday that the remains of five victims were found in or near burnt-out cars. Three others were found outside homes and one inside a home.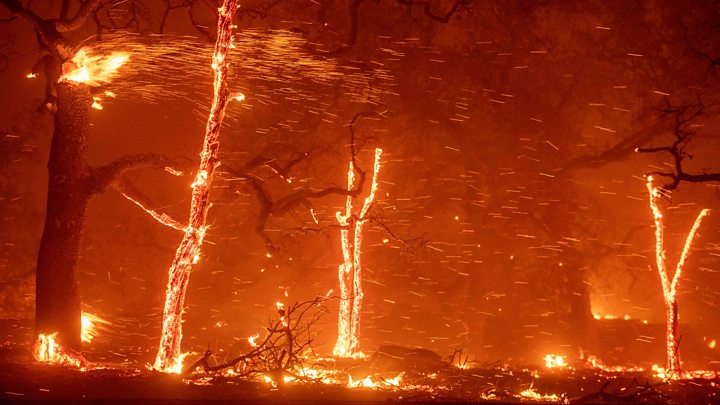 He said another 35 people were missing and three firefighters had been injured.
"This event was the worst-case scenario," he said. "It was the event we have feared for a long time."
Rescuers used a bulldozer to push abandoned cars out of the way in order to reach a hospital and evacuate patients as the fire engulfed the building, Butte County Supervisor Doug Teeter said.
"There's nothing left standing," said Scott Maclean, the state's forestry and fire protection spokesman.
Driving through walls of flame
By the BBC's James Cook in northern California
Driven by hot desert winds, the wildfire raced into Paradise, devouring the equivalent of 80 football pitches a minute.
The town sits on a ridge and the few roads out quickly became clogged with traffic as 27,000 people tried to flee, many driving through walls of flame.
Some motorists abandoned their cars and ran for their lives with children and pets in their arms.
Residents are now using social media to search for missing friends and family members.
Fire officials have also issued evacuation notices for parts of Chico, a town of 93,000 people north of Sacramento.
The three blazes are among 16 currently active fires in California. Officials have put most of Northern California under a Red Flag Warning, which means "extreme fire behaviour" can occur within 24 hours.
The region has grappled with serious wildfires in recent years, including the worst in the state's history – the Mendocino fire in 2018.
Are you in the area or have you been evacuated? If it's safe to share your experiences, then please email [email protected]
Source: Read Full Article